09/04/2021 at 11:08 PM CEST
With many more problems than expected before a magnificent ABANCA Ademar, FC Barcelona reacted in time after a bad first half to win 30-27 in Torrelavega and conquer the 24th Spanish Super Cup in its history and the tenth in a row in the presence of President Joan Laporta in the box

FCB
ADE

FC BARCELONA, 30
(13 + 17): Pérez de Vargas (p.), Thiagus Petrus, Dika Mem (4), Haniel Langaro, Ludovic Fàbregas (1), Aleix Gómez (6), Luka Cindric (2) -starting seven-, Leo Maciel (ps), Blaz Janc (2), Melvyn Richardson (2), Timothey N'Guessan, Domen Makuc, Luís Frade (4), Ángel Fernández (5) and Ali Zein (4)
ABANCA ADEMAR, 27
(15 + 12): Panagiotis Papantonopoulos (p.), Milan Bomastar (ps), Adrián Casqueiro (2), Marko Milosavlevic (3), Jaime Fernández (2), Zanas Virbauskas (4), Gonzalo Pérez (8), Theodoros Boskos (3), Nikolaos Liapis (1) and Santista (4).
REFEREES
García Mosquera and Rodríguez Rodríguez. They excluded two minutes to Haniel Langaro (9:14), Melvyn Richardson (19:10 and 27:08) and Aleix Gómez (54:08), from FC Barcelona; and to Guilherme Borges (4:48), Jaime Fernández (18:01) and Adrián Casqueiro (53:00), from ABANCA Ademar.
SCORE EVERY FIVE MINUTES
1-2, 3-5, 6-8, 8-10, 10-13, 13-15 (rest), 15-16, 18-17, 20-19, 25-21, 27-25 and 30-27 (final).
INCIDENTS
Match corresponding to the Spanish men's handball Super Cup played at the Vicente Trueba Pavilion (Torrelavega).
Thus, Carlos Ortega won his first title as a Barça coach after replacing Xavi Pascual this season and this Tuesday he could add the second if he beats Fraikin Granollers in a new edition of the Catalunya Super Cup.
The best proof of this is that the Leonese never lost in the whole first act, with an infallible Gonzalo Pérez Arce from seven meters (five penalties transformed without failure) and with a good performance under the sticks of the Greek goalkeeper Panagiotis Papantonopoulos.
The first part was a tactical display by veteran Manolo Cadenas, who found the formula to slow down the match as much as possible and minimize losses with the goal of preventing the rapid play that has characterized the Catalans in recent years on premises that will remain with Carlos Ortega.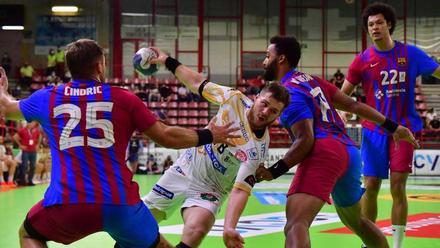 Virbauskas made a remarkable first part
| RFEBM
The point is that two goals by Dika Mem they stopped the first rush of an Ademar he had taken two rental goals (5-5 in 12 '), but it was a mirage. Very focused and with a remarkable Zanas Virbauskas, the Leonese team began to dream of the title when they left for three goals (6-9 in 16 ').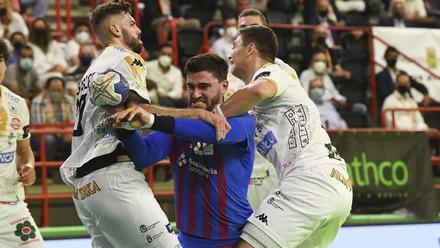 The Leonese defense, closed around Fàbregas
| FCB
Barça suffered, they were not comfortable in attack and accumulated exclusions with two almost in a row for Melvyn Richardson. The fifth penalty scored by Gonzalo Pérez established 11-15 three minutes before the break.
Manolo Cadenas's men attacked to leave for five goals, but there the champions of the previous nine editions pressed in defense to achieve a 2-0 partial thanks to the 'targets' of Ángel Fernández and Blaz Janc who closed the first act with a 13-15 as unexpected as positive in light of of how the circumstances had come about.
Carlos Ortega read the card to his players on the break and the increase in the defensive level was key to turn the scoreboard in just seven minutes (17-16), culminating a 6-1 run from that 11-15 in the final stretch of the first act.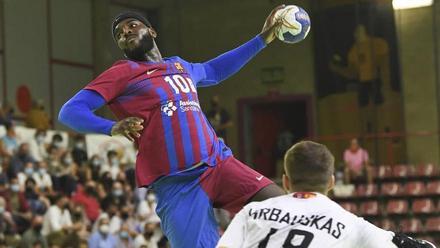 Dika Mem, rising before Virbauskas's gaze
| FCB
Ademar was not willing to throw in the towel so easily and Cadenas resorted to attack without a goalkeeper to try to regain offensive clarity. The problem is that Pérez de Vargas began to appear and all this led to the Barça's first advantage of two goals after Luka Cindric's 'target' with 15 minutes to go (21-19).
Three goals almost in a row and an assist from the recovered Egyptian Ali Zein coincided with the best minutes in the Super Cup of a Barça that came to command by four (24-20 and 26-22) and that also knew how to solve the last threat of reaction of a tired Leon team (27-25). In the end, a 30-27 victory and … the 24th Super Cup is here!