09/08/2021 at 10:32 PM CEST
FC Barcelona has achieved its ninth Catalan Super Cup of the nine editions contested with a clear 36-26 victory against Fraikin Granollers which hosted this tournament as well as the female one, in which KH-7 Granollers prevailed in the duel prior to Sant Quirze.

FCB
GRA

FC BARCELONA, 36
(15 + 21): Leo Maciel (l.), Thiagus Petrus (1), Melvyn Richardson (6, 1p.), Ludovic Fàbregas (4), Luka Cindric (5), Blaz Janc (2), Ángel Fernández (2 ) -initial seven-, Luís Frade (1), Domen Makuc (2), Ali Zein (2), Aleix Gómez (1), Dika Mem (2), Martí Soler (2) and Aleksandar Cenic (1),
FRAIKIN GRANOLLERS, 26
(11 + 15): Rangel Luan (p.), Pol Valera (5, 1p.), Àlex Márquez (3), Esteban Salinas (1), Antonio García (2, 2p.), Sergi Franco (1), Adrià Martínez (2) -starting seven-, Marc Guàrdia (ps), Oriol Rey, Joan Amigó (3), Jan Gurri (1), Chema Márquez (4), Édgar Pérez (3), Gerard Domingo and Víctor de Sande (1 ).
REFEREES
Andreu Marin and Ignacio García (Catalan). They excluded two minutes to Pol Valera (12:00), from Fraikin Granollers; and to Ali Zein (22:57), Luís Frade (23:10), Thiagus Petrus (25:35) and Ludovic Fàbregas (33:57).
SCORE EVERY FIVE MINUTES
5-1, 7-3, 9-5, 9-8, 12-8, 15-11 (rest), 19-12, 24-16, 27-18, 30-20, 33-25 and 36-6 (final).
INCIDENTS
Final of the men's handball Super Cup of Catalonia played in front of 1,300 spectators at the Palau Olímpic de Granollers.
The azulgrana box faced the shock so alone three days after lifting the Spanish Super Cup with suffering against Ademar (30-27) while the people of Granada have just celebrated their move to the next round of the European League.
Before the watchful eye of President Joan Laporta, The staging of the champion of all editions was excellent with a fierce defense led by Thiagus Petrus and with a notable Leo Maciel in goal, which led to a clear 5-1 passing through 5 '.
With 8-3 and just after the third goal by Luka Cindric, Antonio Rama stopped the game to ask his players for more intensity. "Going down to defend also depends on wanting to do it," said the Granollerense coach to his players with a critical tone.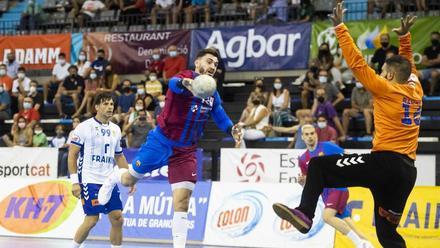 Ludovic Fàbregas, in a match action
| FCB
And the game changed completely, to the point that the locals balanced the rest of the first half. In fact, Barça went five minutes without seeing the goal due to their own errors and the great irruption of Marc Guàrdia in the goal. So much so that Sergi Franco reduced the Vallesan disadvantage to a minimum (9-8 in 20 ').
Those of Carlos Ortega they recovered their vital signs with a great defense and even achieved a 2-0 run with two fewer players due to the exclusions of Ali Zein (rigorous) and a Luís Frade angered by a flagrant fault not indicated in the previous action.
Thus the things, the Gaul Dika Mem scored two goals in a row to send the match to the locker room at 15-11… but he had to go to the bench immediately due to a problem in his left ankle which, judging by his gestures, is recurrent. He did not play again.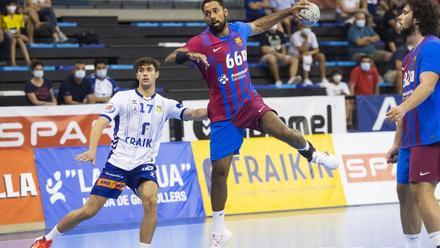 Melvyn Richardson, a handball genius
| FCB
The Blaugrana team returned very well from the locker room and between Maciel's eleventh stop (the Argentine's magnificent performance) and three goals followed by a firm Langaro the difference grew until 19-11 on the edge of minute 35.
A great Melvyn Richardson and Cindric took over in attack against a local team that suffered in defense (29-18 in minute 47 '), but from there some excellent minutes by Pol Valera brought Granollers back to life and forced Ortega to stop the game with 33-35 with seven minutes remaining.
Anyway, the ninth Catalan Super Cup was also Barça against a notable rival who ended up losing by xx-xx. In other words, Ortega's Barça has achieved its first two titles in just 72 hours. The next could be the Super Globe in early October.