Bitcoin : Bitcoin (BTC): the bullish recovery is still weak; immediate technical point
September 16, 2020
Bitcoin's price is holding its support and yesterday offered a rather soft bullish impulse. What should we think ?
Key technical factors of the article:
Bitcoin's price held its support at $ 10K well and broke the resistance at $ 10,500 yesterday. On a technical level, Monday's bullish impulse can be described as rather soft and above all, it must be shown that the $ 10,500 has resumed its role of support, it is not certain.
In my previous technical analysis published on Cryptonaute, I returned to the positive correlation between the dynamics of stocks and crypto assets. The indices held their support, the price of Bitcoin effectively did the same by proposing a rebound on the 10,000 $.
The Monday September 14 session even saw BTC complete this positive market streak by breaking through resistance at $ 10,500, the former highs of February 2020 (before the bearish stock market shock linked to Covid-19) and the threshold of bullish acceleration of the July 27 session.
Bullish impulse … a little soft
But this bullish impulse seems special to me, let's say it's a little … soft. The trading volume is low, and apart from the Ether coin (here too it is bullish but moderately convincing) altcoins do not follow.
Let's put it simply: if $ 10,500 for BTC and $ 360 for ETH immediately show that they have regained their support role, then the market may join resistance at $ 11,500. The scenario is basic, with a invalidation below $ 10,350 on a daily close basis.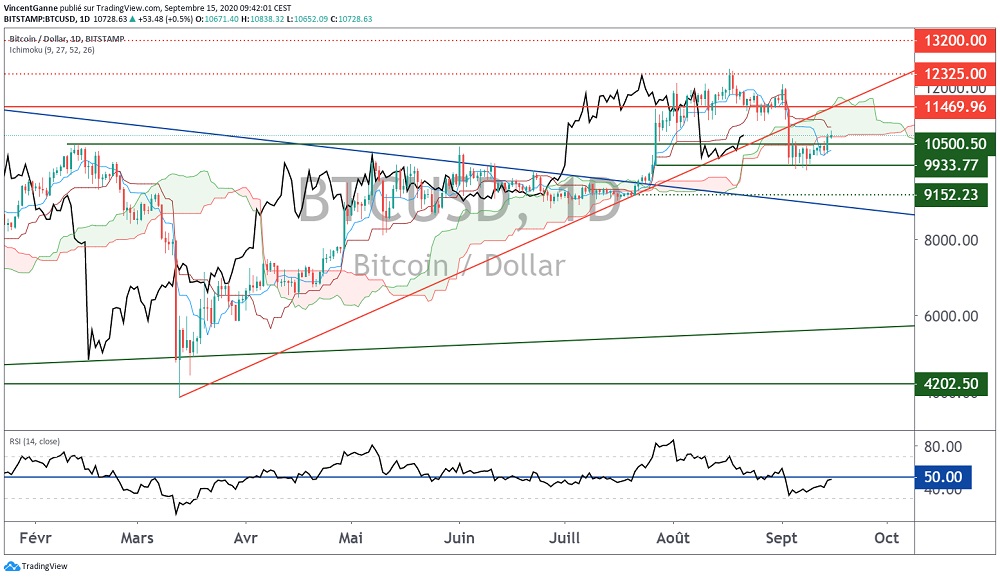 Bitcoin price chart with the TradingView platform
Follow Vincent Ganne on Trading View for more financial market analysis. The technical thresholds and trend shown above are based on the "price, momentum, sentiment, ichimoku" technical approach. The data comes from Bitstamp and the graphics of TradingView.
This content is provided for informational purposes only and does not constitute an investment recommendation. We remind you that theinvesting in crypto-assets, including Bitcoin, is extremely risky. Cryptocurrency prices are susceptible to large and unpredictable price fluctuations.