Bitcoin : BITCOIN: two facts to know about the summer uptrend
August 4, 2020
Two things you shouldn't miss about the summer cryptocurrency bull trend.
Key technical factors of the article:
Information number 1: the institutional open position on BTC futures & options contracts is at its historic high. Information number 2: Top altcoins have a better relative behavior than the price of Bitcoin this summer.
In my previous technical posts published on Cryptonaute, I was able to discuss the different stages of the bullish signals which were given during the month of July and which engage new bullish targets in the coming weeks.
The technical analysis of the financial markets made it possible to envisage at an early stage the current uptrend in BTC, ETH, XRP and LTC. It was the Ether Coin that had opened the way, the exceeding of the 10K $ on the price of Bitcoin finished making everyone agree.
In this new article, I want to discuss two market characteristics that give structure to the summer bull movement. The first characteristic is crucial, it is the trading volume. In stock market analysis, two pieces of information matter, price action and volume dynamics. If there is convergent direction, then that perpetuates the trend.
The first graph below shows that the open position on BTC futures contracts + BTC options on the Chicago Stock Exchange (CME) reached its all-time high at the end of July.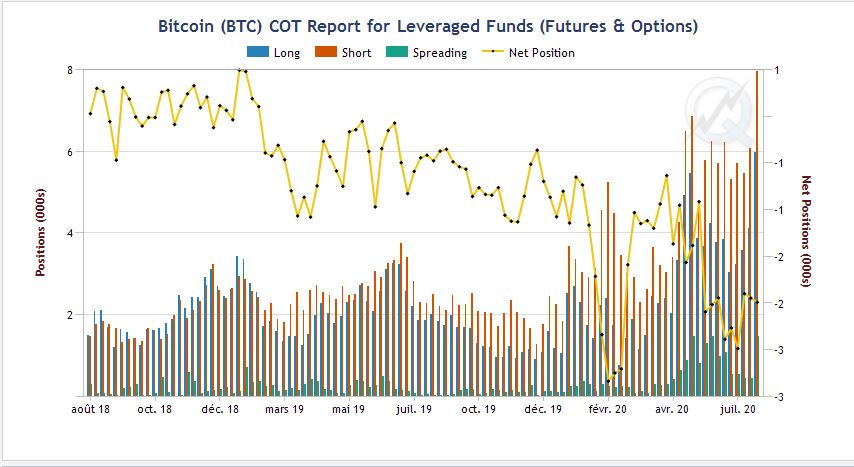 Institutional trading positions on Bitcoin futures and options in Chicago
It is a bullish technical factor to observe this price / volume action convergence. The second data that seems important to me in the current increase, this is the outperformance of top-tier altcoins on BTC, a phenomenon observed in solid bullish phases.
The second chart below thus shows the dynamic relative hierarchy since the beginning of July and the performance of XRP, Ether and LTC is superior to that of the price of Bitcoin.
This is how this technical post ends, thank you for reading me and have a good week everyone.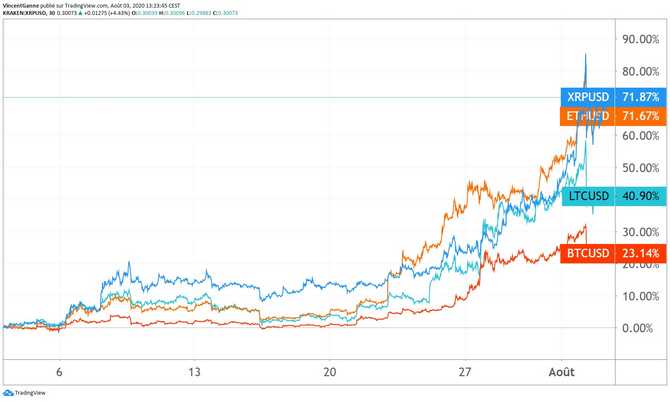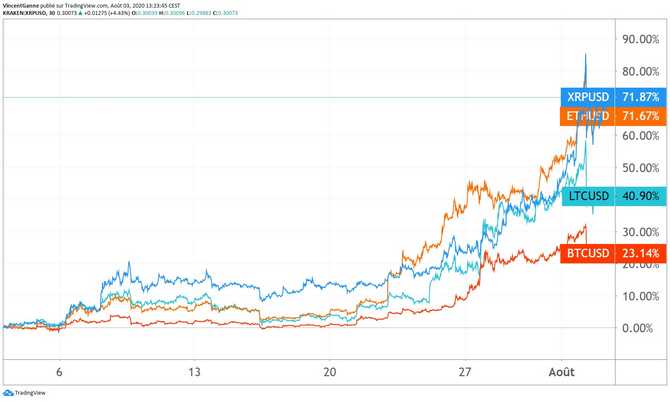 Crypto charts since the beginning of July – source TradingView
Follow Vincent Ganne on Trading View for more financial market analysis. The technical thresholds and trend shown above are based on the "price, momentum, sentiment, ichimoku" technical approach. The data comes from Bitstamp and the graphics of TradingView.
This content is provided for informational purposes only and does not constitute an investment recommendation. We remind you that theinvesting in crypto-assets, including Bitcoin, is extremely risky. The prices of crypto-currencies are susceptible to large and unpredictable price fluctuations.