Bitcoin : The bullish gap of the BTC $ 9665 / $ 9925 futures contract, a technical sword of Damocles
August 11, 2020
The gap opened on July 27 on the BTC futures contract represents a risk of a strong retracement before reaching the $ 13K.
Key technical factors of the article:
The volume traded on the BTC futures contract by professional traders is at its all-time high, so we need to do technical analysis of this contract. The bullish gap opened on the futures contract between $ 9665 and $ 9925 represents a risk of a sharp decline.
In the financial markets and in its practice of technical analysis, it is necessary to make a judicious choice of financial assets. These are very numerous but only a small part represents an effective barometer for stock market forecasting.
In order to select them well, we must look at the side of the trade volume and turn to those who are traded the most by traders in Bank, management funds and hedge funds. These "institutional" traders trade on the EuroStoxx 50 futures contract and the mini S&P 500 futures contract on the stock index market for example.
For cryptocurrencies, these are futures and options contracts of the CME, the Chicago Stock Exchange. Never in the short history of the BTC futures contract has the volume of trading been so high, so this is where you need to do some technical analysis.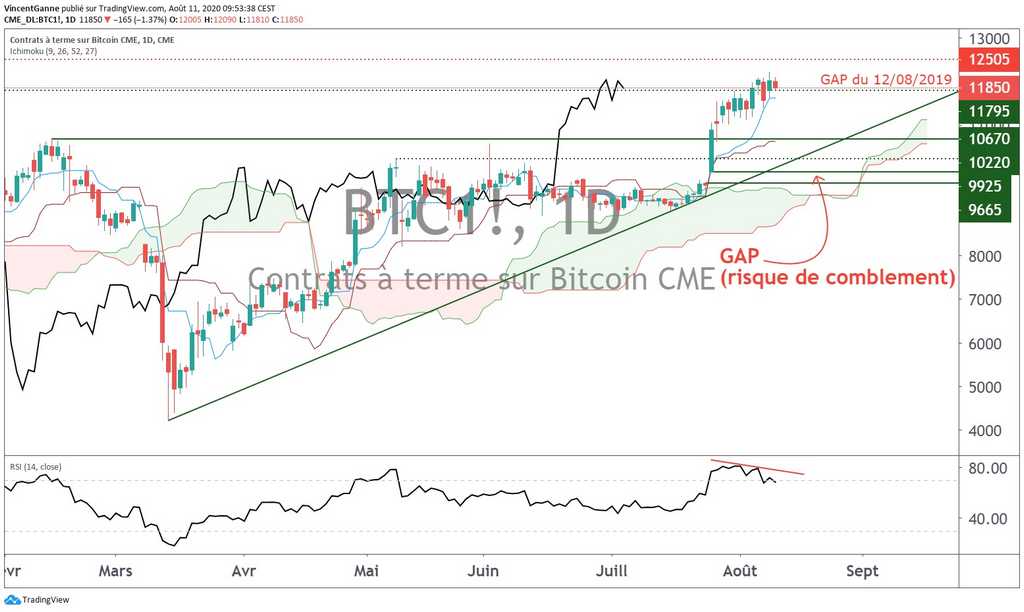 Bitcoin futures contract on the Chicago Stock Exchange (CME) – source TradingView
Technical analysis of the BTC futures contract reveals a bullish message for the underlying trend, but there is a technical sword of Damocles… this is the bullish gap opened on Monday July 27 between $ 9,665 and $ 9,925. The nature of this quotation hole is that of a breach gap, but the BTC futures contract fills all of its gaps. It may take time, but beware of a sharp drop to close the gap, before the rise resumes..
Follow Vincent Ganne on Trading View for more financial market analysis. The technical thresholds and trend shown above are based on the "price, momentum, sentiment, ichimoku" technical approach. The data comes from Bitstamp and the graphics of TradingView.
This content is provided for informational purposes only and does not constitute an investment recommendation. We remind you that theinvesting in crypto-assets, including Bitcoin, is extremely risky. Cryptocurrency prices are susceptible to large and unpredictable price fluctuations.