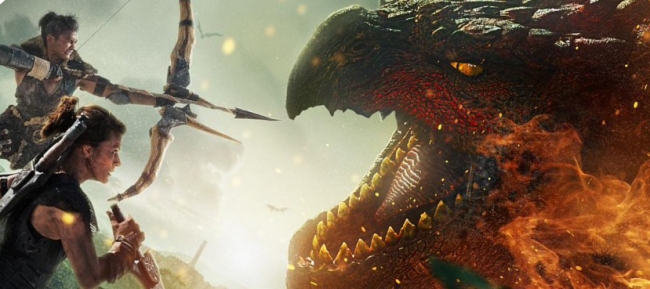 The commercial launch of 'Monster hunter'in China it has been suspended at the last minute by order of the relevant authorities. The reason, apparently, would be a joke in bad taste included in the film that is considered particularly offensive to the Chinese.
Specifically, as Daniel Ahmad, senior analyst at Niko Partners, has shared through his Twitter account, the aforementioned joke will refer to "Chinese, Japanese, dirty knees – look at these?", A derogatory phrase that is used for decades in America to poke fun at the physique of Asians, especially women.
The reactions of those attending the first screenings were immediate, flooding social networks and Chinese movie pages with all kinds of angry comments and negative criticism, to the point of completely sinking the reputation and appreciation of the film, which Before all this it had average marks superior to a 6 in specialized pages like Douban.
As a result of the controversy and controversy aroused in just a few hours, according to journalist Gavin Feng, movie theaters received a notification from the authorities ordering them to immediately cancel all the film's screenings.
In said statement it was commented that the film could continue showing once they received a new copy of it that no longer included the controversial joke, although according to the aforementioned journalist, the movie theaters have subsequently received a new notification assuring that it had been permanently suspended. its premiere.
For now, those responsible for the film have not spoken with the exception of Capcom, the company that created and owns the video game series in which it is inspired and which has ensured that it has not participated directly in the production of it, but that they investigate what happened.
Nor has anyone yet given explanations about how the strict Chinese censors, famous for their toughness and frugal ideological control, could ignore such an offensive joke on their people. Did they trust the film in the same way that the Sitges Festival was trusted with 'Bocadillo' …?
Directed by Paul WS Anderson and starring Milla Jovovich, Tony Jaa, Ron Perlman, TI Harris, Meagan Good and Diego Boneta, now the future of this production of Constantin Film, Impact Pictures, Capcom Company, Tencent Pictures and Toho Company budgeted in 60 millions of dollars has immediately become uncertain.
It remains to be seen how his Chinese adventure ends, but no one is aware that this market, currently in full swing and where this type of film usually works very well, was the great hope of those responsible. Hence, its premiere in theaters in the Asian country was set a month earlier than in countries such as the United States or Spain.
However, with the bad press derived from this situation and without the expected accolade of its more than probable commercial success in China, Sony could now rethink its commercial strategy …
Breaking: All showtimes of Monster Hunter are being canceled in China. Theaters exhibitors got notification in midnight without clearly reason, but industry believe it's because a racist joke about Chinese after audience reflected on social media.

Gavin (@ gavinfeng97) December 4, 2020
Update: Theaters exhibitors just got new notification that the plan of releasing new copies (removing the scene) of Monster Hunter have been suspended.

It almost means it's banned here. https://t.co/ckqflJcu2w

Gavin (@ gavinfeng97) December 5, 2020