10/05/2021 at 9:08 PM CEST
Antonio Vallejo Taslimi
The Galaxy Watch Active 2, which by the way we could analyze In this house, it served as inspiration for the design that the next Samsung watches would get. And here we meet again, with the latest family of smart watches from the firm. In this case we will talk about Samsung Galaxy Watch 4, which we have been able to test for a while and of which today we offer you its corresponding analysis.
During the presentation of this new device, the company launched two very different models for sale. On the one hand, the Samsung Galaxy Watch 4, of which we will tell you in depth all the information about it, and also the Samsung Galaxy Watch 4 Classic, with the same specifications as the standard model, although with a physical rotating bezel to navigate through the different sections of the smartwatch. Before starting to tell you all the news that these new devices offer, we leave you a table that summarizes the Technical specifications of the Watch 4.
Samsung Galaxy Watch 4 Dimensions and weight 44.4 x 43.3 x 9.8 mm
30.3g (44mm), 25.9g (40mm) Super AMOLED display
1.4 inch (44mm)
1.2 inch (40mm)
450 x 450p, Corning Gorilla Glass DX + Exynos W920 Processor 1.5GB RAM Memory 16GB Storage
One UI Watch 3 / WearOS Software Sensors Accelerometer, Gyroscope, Barometer, Compass, Heart Rate, Blood Oxygen, Stress,
Sleep monitoring, Body monitoring, ECG, Blood pressure Connectivity A-GPS, GLONASS, GALILEO, BDS Battery 361 mAh (44mm)
247 mAh (40mm)
Wireless charging
Samsung has been betting on the Galaxy Watch range for some time now, and at every step we have seen new improvements that have come in handy for these devices. With the arrival of the Watch 4, users opt for one of the most complete Android smartwatches today, if not the most. The software has been one of the pending tasks of Samsung watches, an aspect that you can cross off that list thanks to the incorporation of WearOS, which we will talk about later. However, before going into the matter of the characteristics of this device, we think it is worth mentioning its design.
AN ELEGANT AND LIGHTWEIGHT DESIGN
Samsung watches have always been characterized by a somewhat more bizarre design than their competition. The Korean firm has been inspired by those traditional luxury watches, something that can be seen with the naked eye in its products. However, it was perhaps the Watch Active range that sparked interest in Samsung to try to make devices somewhat lighter, minimalist and simpler in terms of visual appearance. The Watch 4s go down that line, and we find a watch with a much simpler and more ergonomic look. With an aluminum body and rubber strap in its standard version, we find two sizes: 40mm and 44mm, and a weight of 25.9g and 30.3g respectively. The side of the watch is accompanied by two physical buttons, one of them to go directly to the watchface, and another to go backwards and that we can program to perform different functions depending on the press. It is here where the microphones, by which we can answer calls if we need it. It is also worth mentioning its resistance to water and dust, thanks to its IP68 certification, making this watch can be submersible at 50m. It also has MIL-STD-810G military certification. In use, the truth is that the Samsung Galaxy Watch 4 is a watch that does not do anything heavy on our wrist
Feel on the wrist is total premium
| sport
AN INFARCTION PANEL
When we talk about Samsung, the panel in high-end devices is something that we are very well used to. And it is that in the Watch 4 we have that 1.4-inch AMOLED screen on the 44mm dial model, with a great brightness and contrast. In addition, its size is ideal for navigating the interface or reading notifications, since the software is really well adapted to it. This panel has the protection Corning Gorilla Glass DX + and has the function Always-on Display. Without a doubt, this panel is one of the most outstanding points, thus being able to enjoy the device with total clarity.
WELCOME WEAROS
The integration of WearOS to the software of the Samsung Galaxy Watch 4 are practically all advantages. In this way, now we can with total freedom to install APKs from the Store without depending on the serial applications of the watch. In addition, at the level of functionalities, Samsung has increased the versatility and fluidity with which to navigate on this smartwatch. Stands out above all the improvement in the notifications part. And it is that when we receive one, we have multiple possibilities of reply, either by written text, emojis, voice dictation, and more. While it was like this before, Samsung has now made it possible to perform these functions much more clearly and easily. In this way, responding to a WhatsApp through the clock will be much easier, although it is still the least inefficient way to do it.
The multimedia control is another of the great benefits in its software. Thanks to the new visual aspect of the clock, we can now control the multimedia content that we are seeing on other devices in a simpler and easier way.
Regarding the voice assistant, Bixby It keeps being far below the competition, so activating it on this device is simply anecdotal. You can make life easier for us with very basic tasks like activating an alarm, but let's not ask for much more.
The performance on this watch is truly sensational. We remember that it works through Exynos W920 chip, the first processor of 5 nm for a smartwatch. That coupled with the WearOS experience through the customization layer One UI Watch, makes navigating the Watch 4 interface a real joy. Everything is much more polished, especially in the visuals, gestures and additional functions. However, the start-up of this device when synchronizing it with our phone continues to leave something to be desired. For starters though it is compatible with most Android phones, not for Huawei or iOS devices. The ecosystem you have this watch screams that our phone is also from Samsung. And it is that functions such as the electrocardiogram or the measurement of our blood pressure are exclusive aspects for Samsung phones. In addition, the fact of fragmenting the health and monitoring apps, in addition to the different plugins that must be installed on our phone, makes the first steps of connecting with our phone take more than a few minutes. However, if we get out of that step alive, it will be worth it, since we are surely facing one of the most complete smartwatches of today.
A SMARTWATCH LOADED WITH SENSORS
One of the aspects that attracts the most in this type of device are the sensors that they incorporate. In this case we have the typical sensors to monitor our heart rate and blood oxygen. Although as we have already mentioned in the previous paragraph, it is also possible to do a ECG and know our blood pressure through a few simple steps that will be explained to us through the device. In addition, we also have measurement of body composition, where we can see parameters such as our body mass, fat percentage, BMI, etc. These parameters are achieved through a tiny electrical current that the watch itself sends through the placement of our fingers. Although the results are quite approximate, it is worth remembering that the results are indicative, and that they do not replace any medical professional.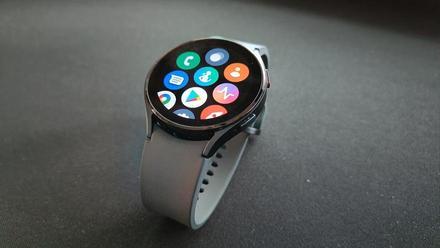 Samsung Galaxy Watch 4
| sport
The sleep monitoring and the stress they also coexist with the other sensors. In fact, a rather curious function when it comes to measuring our sleep is the possibility of record our snoring (in case we have them) automatically. The application detects the noise that we give off and we can reproduce it through the app itself. Samsung Health.
UP TO 100 SPORTS MODES
Other virtues offered by this class of devices, and which are appreciated by those who like to keep track of their routines, are the large number of sports modes they offer. In the Watch 4 we have up to 100 of these modes, and combine with GPS to make a continuous monitoring of the activities we carry out. In addition, if the device detects that we are moving with a certain rhythm, it will automatically begin to record our activity. As usual, everything we do will be reflected in the app, where we can see in greater detail all the exercise we have done.
AUTONOMY, SOMETHING PENDING FOR SAMSUNG
As for the battery, bad news for users. And it is that although it fulfills in terms of functionalities and possibilities it refers, the Watch 4 barely lasts a day of use. The watch has a 361 mAh battery in the 44mm and 247 mAh for the smaller models. The average use that we have demanded reaches a day and a half, but it is just right. This means that the most ideal if we get this smartwatch is a daily charge, which we can do through its magnetic wireless base. We also miss a fast charge so that we do not have to wait 2 hours for the clock to reach 100%. Samsung still has a pending fight in this aspect, one so important that it could change the opinion of the user and opt for another product.
CONCLUSION
The Samsung Galaxy Watch 4 it is without a doubt one of the most complete Android devices of its kind. With a long list of sensors, a scandal panel, and a premium design with a touch of minimalism, it will delight all those looking for a competent smartwatch. Of course, some may get off the boat for just autonomy, an aspect with a lot of room for improvement on the part of Samsung.