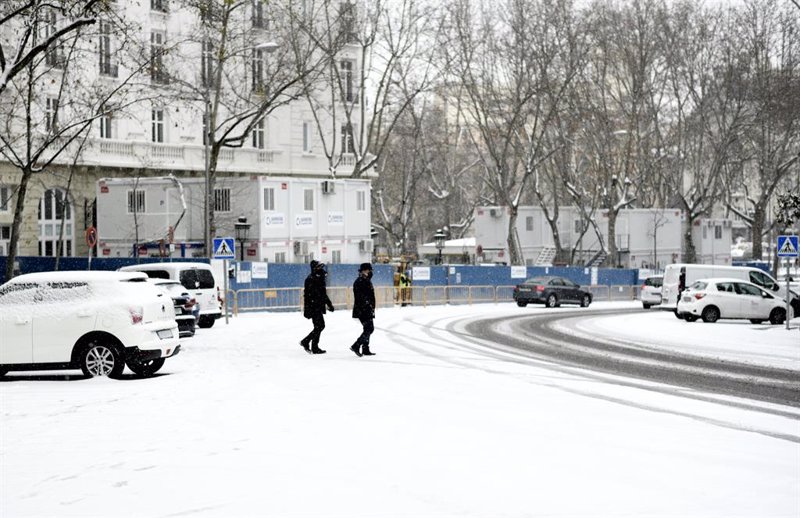 The snowstorm that this weekend has covered almost all of Spain in white will give way this Monday to a cold wave that will alert more than thirty provinces due to temperatures that could reach -15ºC, according to the prediction of the State Meteorological Agency (AEMET), which has issued a special warning this Sunday.
During the day, in the Cantabrian and upper Ebro, there is the possibility of weak and scattered rainfall, while in the Mediterranean area, occasional rainfall is expected, which may be in the form of showers and locally intense storms in coastal areas of the Strait, Alboran and the Balearic Islands. The islands of Mallorca and Menorca will be in yellow warning (risk) due to rains.
In the rest of the Peninsula, cloudy intervals are expected, predominating the low clouds in the interior. And in the Canary Islands, the skies will be cloudy and will bring weak rains in general in the north of the islands.
During this Monday, Snow levels will continue below 500 meters in the northern third of the Peninsula, and it will oscillate between 500 and 800 meters in the Mediterranean area. Although, only in Cantabria the warning will remain this Monday, of a yellow level (risk) due to snow.
Maximum temperatures will tend to rise in the northwest and southern third of the peninsula, and will fall in the rest. Thus, they will be below 0ºC in the Central and Iberian systems and in the vicinity, and also in other areas of the northeast of the peninsula. And the minimums will go down, the decreases being notable in the Pyrenees and the south of the Iberian system. In the Canary Islands, hardly any changes are expected.
In any case, throughout Spain they remain below their usual values ​​on these dates, with generalized frosts, more intense in the mountainous systems, the Southern Plateau and the southern plateau of the North Plateau, with temperatures that may range between -10ºC and – 15 ° C.
According to the special notice of the AEMET, the storm 'Filomena', which has lost intensity after passing through the Peninsula, is already in the western Mediterranean, although in the next few hours there will be showers and some storms in the area of ​​the Strait, Alboran and the Mediterranean area.