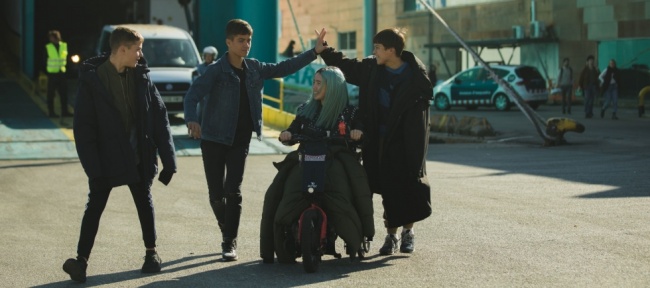 Movistar + has launched the first official preview of 'The hustlers', original series produced in collaboration with Dynamo Audiovisual with which Albert Espinosa returns to television, on the tenth anniversary of 'Red Bracelets'.
Its first three episodes will be released on January 29, 2021, and then, every Friday, two new episodes will be available that will accumulate on the platform's on-demand service, until a total of seven episodes (of about 30 minutes) are completed. duration each).
Inspired by the novel 'What I will tell you when I see you again', written by Albert Espinosa himself and translated into 20 languages, the fiction tells the journey that five extraordinary boys undertake through Europe when they escape from the psychiatric center in which they were admitted.
These five special young people are Mickey L'Angelo, Yeray, Guada, Samuel and Lucas, who despite their clinical diagnoses face life with humor and courage, because inside they are clear that it is society that is ill. they.
The boys will go on a trip to Europe to find the brother of one of them, while they are facing their fears. From the tenderness and humor, they will embark on an adventure and the search for acceptance while making the most of their lives. The protagonists will emerge unscathed from difficult situations; they will face injustices; and above all, they will discover the love, hate and power that they have when they are together.
The series, directed by Roger Gual ('Smoking Room', 'Instinto'), stars lvaro Requena as Mickey L'Angelo, Marco Sanz as Yeray, Sara Manzano as Guada, Aitor Valads as Samuel, and Hctor Prez as Lucas. They complete its main cast Miki Esparb in the role of Izan, a detective specialized in the search for lost children; Lex Brendemhl, as Dr. Del lamo; and Marta Torn, as Izan's girlfriend.
As usual, the series is distributed internationally by Beta Film, the company that presented it at the last edition of the MIPCOM in Cannes, where it was highlighted by Variety as one of the fifteen most interesting projects on the market.
Click here to see it on YouTube. This and other trilers you can find on our Dailymotion channel,
or in the section Movie trailers and videos of the web.