09/07/2021
On at 20:18 CEST
Luis Enrique Martínez appeared at a press conference in Pristina, the capital of Kosovo, to assess the qualifying match of the Qatar World Cup in 2022. Lucho clarified that Jordi Alba is fit to play, despite dragging some slight discomfort, and noticed that "It will be one of the most difficult games of the group, they will complicate our lives because they are brave".
Lucho was initially asked by the local press and the political conflict came to the scene. Spain does not recognize Kosovo as a country and continues to resent the treatment received in the party in Seville, where the Spanish Government gave instructions to formally treat other rivals differently. For example, the Government requested that one would speak of "Kosovo territory", "Kosovo Federation" or "kos". The coach avoided the controversy and pointed out that "here the atmosphere is perfect, with educated people and there is no problem. We are here to play and enjoy football, not to talk about politics & rdquor ;.
The Asturian explained that the 23 players who have traveled are available, including Jordi Alba, who was dragging some discomfort: "In principle he has no injury, nothing important. In the end, we are left with the player's feelings and we'll see after training. If it were a final, you can play with risk, but here we are going to take zero risks. "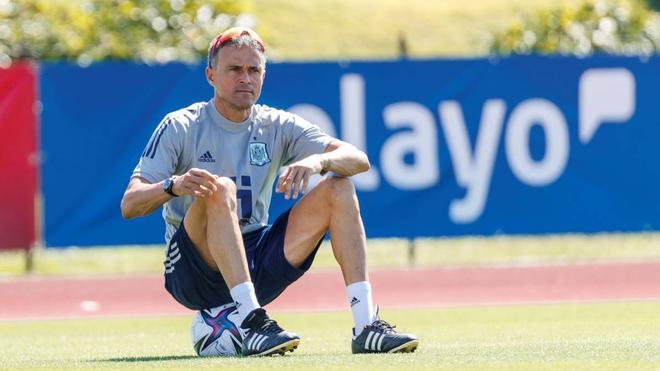 | @sefutbol
An offensive Kosovo
From Kosovo he warned that "it is a different rival to the rest of the teams in the group. I like how they play. They are aggressive in attack and have a good block. They try to get the ball and youWe have to be prepared for a difficult game, perhaps one of the most difficult of the group, although I hope I am wrong ".
Luis Enrique wants his players to be very focused on the game and not think about Greece-Sweden in which Spain also plays a lot. "You have to try to abstract from the external and control what you can control. It is very difficult to win matches and more and more. It is different to play with pressure and there is only one way to pressure and that is by winning our game. "
Continuing with your praise for Kosovo, Lucho stressed that "they are brave and we must be fine to get out of high pressure. They deserve more points than they have. They are going to complicate our lives. "