09/12/2021 at 01:01 CEST
Although he has been able to lose Rudy Fernández due to a possible knee injury, Real Madrid solved a very complicated duel against Lenovo Tenerife (70-72) and will play this Sunday the final against FC Barcelona at 6.30 pm.

TEN
RMA

LENOVO TENERIFE, 70
(21 + 16 + 16 + 17): Bruno Fitipaldo (3), Joan Sastre (2), Aron Doornekamp (3), Emir Sulejmanovic (11), Fran Guerra (8) -starting five-, Giorgi Shermadini (21), Marcelinho Huertas (13), Kyle Wiltjer (3), Sasu Salin (6) and Sergio Rodríguez ..
REAL MADRID, 72
(14 + 17 + 17 + 24): Thomas Heurtel (9), Fabien Causeur (12), Adam Hanga (8), Guerschon Yabusele (15), Vincent Poirier (6) -starting five-, Jeffery Taylor (2), Walter Tavares (4), Nigel Williams-Goss (12), Sergio Llull (2) and Rudy Fernández (2).
REFEREES
Antonio Conde, Fernando Calatrava and Arnau Padrós. They indicated a technical foul to technician Txus Vidorreta (36:14), from Lenovo Tenerife; and Vincent Poirier (24:30) and coach Pablo Laso (27:24), from Real Madrid.
INCIDENTS
Second semifinal of the Endesa Men's Basketball Super Cup played before almost 2,500 spectators at the Tenerife Santiago Martín Sports Pavilion (San Cristóbal de La Laguna, Santa Cruz de Tenerife).
It will be the repeat last season's final, settled with a madridista victory by 72-67. The white box has won the last three Super Cups and the Blaugrana have six, but the last one dates from 2015.
The white box knew that it was not going to be easy at all.l, as always in recent years since Lenovo Tenerife has increased the level of its staff and allows itself the luxury of rubbing shoulders at certain times with the 'big boys'.
At the start, Barça youth squad Emi Sulejmanovic scored eight points and shot his team on the scoreboard (12-6 in minute 5), to which the whites responded with a 0-7 partial led by the powerful Yabusele to turn the scoreboard (12-13).
From there, spectacular 'show' by Bruno Fitipaldo. The Uruguayan took two assists out of his sleeve so that Fran Guerra shone with two dunks and left the electronic at 21-14 at the end of the first 10 minutes.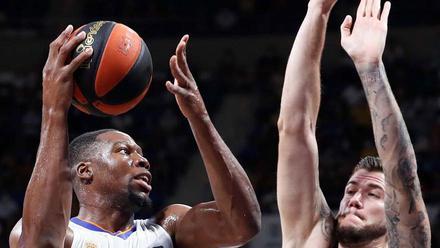 The madridista Yabusele, a physical prodigy
| REAL MADRID
The dynamics were not altered excessively with both teams accepting without question the null interventionism of an arbitration trio that allowed to play in the style of Mateu Lahoz in football. And there Pablo Laso usually takes advantage.
The hosts extended their lead in the middle of the second quarter on the back of Shermadini and the incombustible Marcelinho Huertas (32-22), but ex-bluegran Thomas Heurtel compulsively scored twice and took the duel to rest with 37-31.
In the third quarter everything was negative for a Madrid that, despite this, was still alive. Rudy Fernández may suffer a serious injury to his left knee when his leg went away in an area of ​​the track that was wet and they received Poirier techniques and a Pablo Laso with his usual provocative tone looking for a reaction from his team manipulating the match. Exquisite, but very helpful.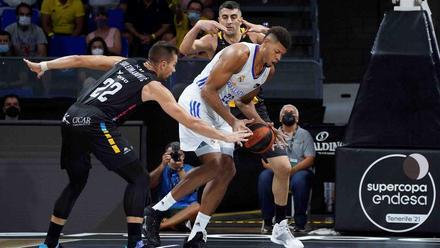 Tavares and Shermadini, fight of giants under the hoop
| .
The fact is that the reigning champions also overcame the four fouls by Tavares and Poirier to face the last quarter just five points behind a Williams-Goss basket (53-48) and be ahead at the dawn of the last with six points in a row from the former Lokomotiv Kuban (53-54).
Madrid controlled the situation for the first time in the entire semifinal and, when Shermadini managed to tie with four points in a row with 5:18 remaining (59-59), there he emerged Causer with a triple and a layup after stealing with a subsequent technique for Vidorreta (59-65).
"Like this, like this, that's how Madrid wins," Santiago Martín chanted when the fifth of Tavares arrived (previously it had been committed by Poirier), but this team has more lives than a cat and sHe forgot the insular attacks to prevail 70-72 with a providential triple by ex-Azulgrana Hanga and challenge Barça in the grand final this Sunday.