Miami :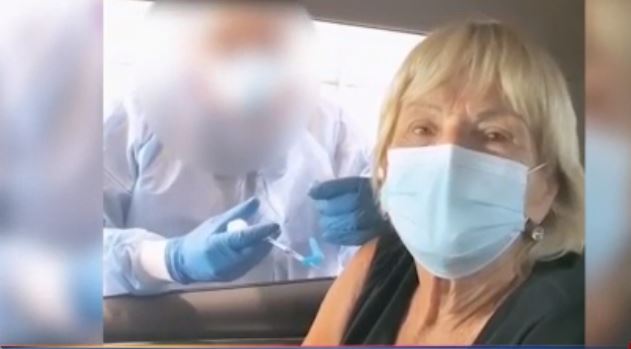 MIAMI, Florida – If you've tried to make an appointment to receive a COVID-19 vaccination for an older relative in South Florida, you know it's not easy. Appointments sell out quickly, but as Myriam Masihy, from the Telemundo 51 Investiga team, discovered, while many residents of our state are still waiting, some tourists from other countries have come to visit and received the vaccine.
In a video on her Instagram page, renowned Argentine television presenter Yanina Latorre celebrates the fact that her mother will be able to receive a vaccine against COVID-19 while visiting South Florida.
"I just took a turn for Dora, I took my vaccinated mother to Buenos Aires," he says in the video.
In a series of videos he posted on Instagram, Latorre says that a friendship helped him get the date, since his mother meets the criteria of being over 65 years old. The news did not sit well with university professor Dr. Omar Alvarez-Pousa, who also qualifies for the vaccine, but has not yet been able to receive it due to a shortage of appointments.
"They were proactively promoting coming to Miami to get vaccinated for free for all people who were over 65 and that no other requirement was required, just have an appointment (an appointment), come and get vaccinated," says Pousa.
Another well-known Argentine who has made headlines is attorney Ana Rosenfeld, who says she frequently travels to Miami to see her family and received the vaccine in Tampa.
"I did not come to a vaccination tour, I was here in the United States, I came to meet my grandson who was born in a pandemic (…) He would have been in the part of the world that he would have been and knowing that this possibility exists, I would have done it" Rosenfeld says.
Rosenfeld says he would never promote travel to receive a vaccine. As for Yanina Latorre, we were able to reach her by phone, but she said she couldn't speak at the time because she was in line for the vaccine. He agreed to give us an interview later, but he stopped answering us.
"There is the Hard Rock stadium, I don't know if you see, we are in the queue," says Latorre in a video.
On Instagram he documented the process, asking what measures his mother should take after receiving the vaccine.
"Can you go to the beach? Can you go to the beach? "He says.
And then the moment came: "Mom getting the shot … come on Dora I love you."
"In the name of God," he said before receiving the first dose. Look at the video.
Francis Suárez, mayor of Miami, assures: "I think it is disgusting that people take advantage of the fact that we are distributing vaccines in our community, it must go as a priority to the residents of our community. And it is something that should not happen ".
Suárez told us that he will investigate the matter, while Dr. Alvarez-Pousa says that, concerned, he wrote to the governor.
"This exists, fix it, it cannot be that today we put one more old man, one more doctor or one more patient at risk, by giving a vaccine to a tourist who comes and still abuses his stay and shows off, when he returns to his country, that a vaccine was taken for free ".
We also wrote to Governor Ron DeSantis's office, but have not yet received a response. At the moment, there are no rules that prohibit a tourist who meets the criteria from receiving the vaccine.