New York : Adrián González makes his debut with FOX Deportes and hits his first hit: "Julio Urías is one of the candidates for the Cy Young"
August 15, 2020
In an interview the "Titan" comments that it will be difficult for the Major League season to be completed due to the pandemic
Adrián González built a fantastic career in Major League Baseball: 2,050 hits and 1,202 runs produced over a 15-year career which included five All-Star Games, four Gold Gloves at first base, a connected hits title and an RBI title.
All of this, added to his leadership on the field and in the locker room, made "Titan" a special player with teams like Padres, Red Sox and Dodgers, in addition to the national team of Mexico.
Now, Adrian Gonzalez he gets into another "diamond": the one of television broadcasts after agreeing to join the FOX Deportes team to analyze the matches of the Big Top.
"We are delighted to add Adrián and feel he fits perfectly on our star-studded talent roster," said Orlando Silver, vice president of production for FOX Sports. "We are honored that he has chosen FOX Deportes for his analyst debut."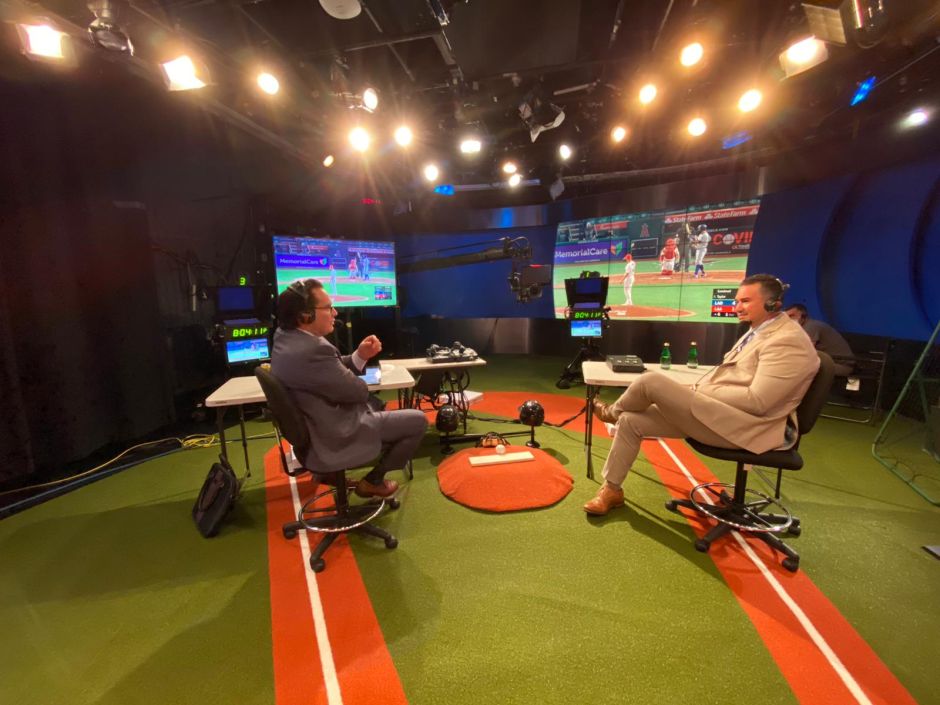 González (right) in his debut as a TV analyst. / Courtesy FOX Deportes
From FOX's studio in Los Angeles and within minutes of making their debut with the Dodgers-Angels game (Dodgers won 7-4), Adrián González talked about baseball, his foray into the media and also about the COVID-19 pandemic in a telephone interview.
How has the coronavirus been for you and your family?
All good thank goodness. Obviously quarantined at home with the family. We went to San Diego to be with the family for a few days and more than anything those were our summer vacations. Fighting like everyone else, but trying to do the best one can.
Are you optimistic that the 60-game season will be completed with everything and playoffs after a start with many setbacks like the Marlins and Cardinals?
I want to be optimistic, but I know that if one or more of these series of positive cases occurs, I see it difficult. But then hopefully and that does not happen again and the season can be finished … This season is a little different and the way the Cardinals are playing, who have to play in 11 days of double games in what remains of the season is quite difficult, I don't know how they are going to do to complete such a short season … No matter how optimistic I want to be the same, it will be a bit difficult.
Where did the Major Leagues go wrong? Should they have done a bubble like in the NBA or what should they have done differently?
No, that is very difficult to answer because nobody is a fortune teller and right now they are playing baseball, so the best way to solve it is that they have done everything they have thought they have to do and right now there is baseball, it is what matters. .
Congratulations on starting this new chapter in your career. How did you come up with this idea of ​​joining the FOX Deportes team?
The idea came from Orlando (Silver, vice president of production) and my brother Edgar. They were talking and my brother asked me if I was interested and I said yes. Right now we are at home in Los Angeles and the studios are here in Los Angeles, it happened and I have been watching baseball and I have fun watching it. Here we are very happy.
What is your approach going to be, not as a hitter, but as a commentator?
I really don't know. I'm going to have fun, I'm going to try to have a good talk with my namesake Adrián García Márquez (play-by-play chronicler) and talk about things that I can see, that is, all my life I was a baseball student when I played and I go to try to do the same: I will try to observe the game and give my opinion thinking about what could happen.
What do you think of the Dodgers (14-7) after this first third of the season for them?
They have done very well, they are at the top of the Division as they should be and they have done a good job, the pitching has been strong. They will continue to be there.
Mookie Betts hit three home runs Thursday and it looks like he's catching up. Give us your opinion of him as a player.
Obviously we are talking about one of the top three or five in baseball today; he has talent, he has taught it in his career; He has the ability to hit for all bands, runs the bases very well, fields, has a good arm, that is, the five talents that are needed in baseball and what more can be said? He is a great player.
About Julio Urías, you know him very well, people despair that they won't let him pitch anymore. I think its development has been slower than expected. What do you think?
For me he is one of the candidates for the Cy Young, he is the best Mexican pitcher there is right now, for me he has an incredible talent. Yes, I also wish they had released him a little more than they have, but they already said that the season is theirs and that I achieve what I can, so I am expecting very good things from him. I'm not a gambler, but if I were to gamble, I would bet that Julio would be in the top five in the Cy Young voting at the end of the year.
(Urías is 2-0 with a 2.53 ERA in 21.1 innings this season.)
Speaking outside of baseball and as a citizen, what is your perspective of what we are going through this difficult year?
We are in a very difficult stage for the country (United States), for the whole world, and I hope that everything will be fixed in this next year. We are all in a position where we don't know how to react, what to do, how to do it, and trying to be the best citizens to keep things moving forward. What you can do is take care of yourself, take care of the people around you, wear the mask and try to be a good person and a good example for everyone else.
READ MORE:
Adrián González gives you advice on what a real taco should take
Dodgers pitcher calls Houston Astros snitches and cowards
Angels press officer supplied drugs to Tyler Skaggs
FOX Deportes chronicler has the best anecdote of Kobe Bryant the competitor