New York :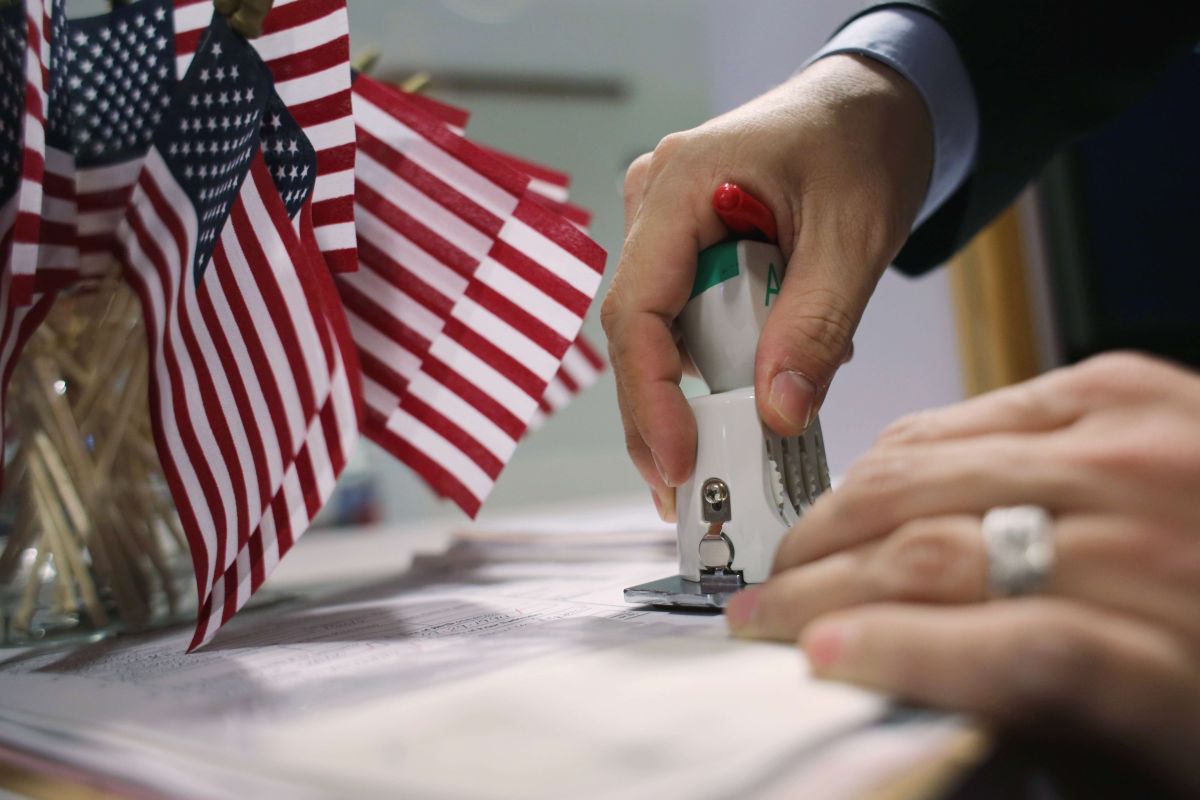 A compass opens where alleged lawyers could take advantage of uninformed immigrants.
Photo: John Moore / .
Have some of the firm changes o specific to President-elect Joe Biden in migratory matter? The answer is absolutely: No!
In the midst of the announcements of the new Federal Administration that begins next January 20, about a turn in the way immigration policies will be conceived in the country, many confusions could be emerging that open the door to fake fraud lawyers, who intend to obtain money in exchange for managing supposed benefits approved by who will be the new tenant of the White House in a couple of weeks.
"There are a number of rumors about new benefits, changes in laws or visas, in addition to versions on immigration reforms. We must responsibly warn our immigrants that any process in that direction could take time, even years. They should seek advice ", he warned Lucia goyen, manager of community outreach for Catholic Charities of New York.
For example, when a judge last Friday ordered the administration of President Donald Trump to fully restore Deferred Action for Childhood Arrivals (DACA), a number of questions arose about the ability for beneficiaries to request immediate renewals, travel permits or simply about a supposed immediate opening of the compass for new applicants.
"It is important to insist to our communities that if you have any questions about your case, or simply if you think you qualify to start a process, connect with trusted and certified attorneys. Don't be an easy prey for scammers, "Goyen said.
Free and reliable consultation
And precisely through a special day that will allow contacting specialists who clarify all doubts in this matter, this Wednesday the Office of New Americans of the State of New York and Catholic Charities of NY with the support of Univision and The newspaper activate a 'phone bank' between 5:00 and 7:00 PM that opens the door to free and confidential consultations just by calling 1-800-566-7636.
"All people who have doubts about their status, whether they are DACA beneficiaries or those who are under Temporary Protected Status (TPS) and it expires next January, or simply who has any other concern on some path to legalization, you have a valuable opportunity to receive accurate and updated information, "stressed the spokeswoman for Catholic Charities.
There are hopes
Lucia Goyen who is an expert in applications before the Citizenship and Immigration Services (USCIS) insists that although there is a "hope for changes" with the new Biden government, there are some policies that can be applied very quickly and others that will require processes that " by definition" they will not be short term.
"At DACA and TPS case only the will of the new president is required, the day after taking office. They are reliefs and programs that depend directly on an executive order, on a decision that does not require other filters ", he specified.
But more structural and profound changes as a comprehensive immigration reform that opens the path to citizenship and permanent residence for thousands of undocumented people, will walk a path that will be longer. Even more so when it is not clear who has a majority in the Senate.
"That is why we insist. Till the date there is no progress by the new administration on these policies. There are only intentions. This forces us to promote information to our communities, it is the best way to maintain them away from unscrupulous managers, that in the midst of this climate of change, they could create traps by offering false visas or benefits ", he confirmed.
Regarding the changes in the 'Public Charge' regulations and changes in asylum policies, the specialist warns that these are processes that could take much longer, since they require to be reviewed, published and commented on for periods of up to more than 30 days.
"We cannot think that already in January 2021 we will have significant changes in immigration matters. Let us remember that a new government is barely seeing light, that although it has promised that these issues will be a priority, we are in the middle of a pandemic and an economic crisis that could absorb your efforts in the first days. That is why the value of being well informed at this time ", concluded Goyen.
Who should participate?
Any immigrant who has general questions about their immigration cases and that of their family.
Individuals who meet the initial requirements to opt or renew the DACA program or who are TPS recipients from any country who have concerns about their status.
Those who have doubts about the existing ways to legalize their status and who have heard rumors about new policies to "do their papers."
Victims of fraudulent attorneys that in recent weeks they have offered him immigration relief plans allegedly approved by the new Biden administration.
How to get help?
Simply by calling this Wednesday, December 9, between 5:00 and 7:00 PM, at 1-800-566-7636. This may be the first contact for you to continue browsing the support resources free, confidential and in Spanish legal offered by some non-profit organizations in New York, via phone or video conference.