New York : Bodegueros distribute turkeys and urge to stop the violence
November 22, 2020
NEW YORK.- In an effort of goodwill a few days before the celebration of Thanksgiving, the Union of Bodegueros de América (UBA) in association with several barracks in the Bronx carried out this Sunday the initiative, "Collect a Turkey, put down your weapons ", a crusade to bring encouragement to the table of poor families and at the same time a call to stop armed violence.
"Today we joined the New York Police Department in feeding families of 10 or fewer with the gift of a Thanksgiving dinner. We have incredible people in our neighborhood and we must let them know that we are always here for them, "said Radhames Rodríguez, president of the UBA.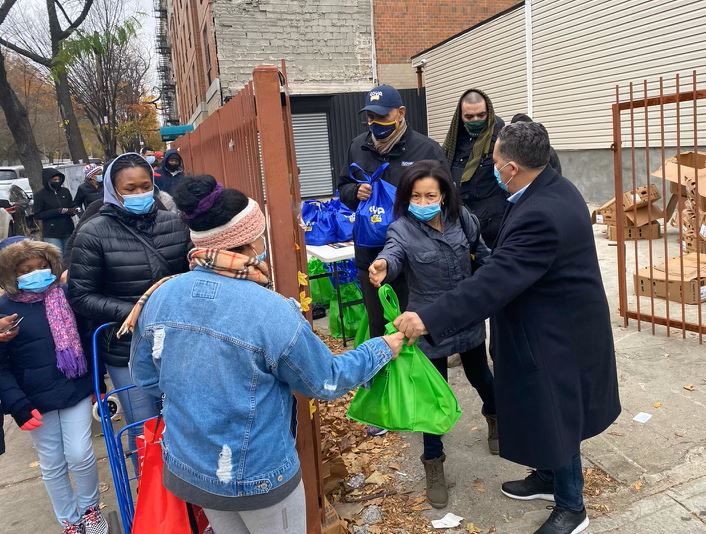 Some 600 families received bags of food and a fresh turkey.
Some 600 bags with a turkey each and all the ingredients needed for dinner were distributed among low-income families in previously selected areas where violent incidents have occurred recently, particularly inside warehouses.
"We will never let our community go hungry, we are family and we must never forget that," added Rodríguez. "This is an effort to unite our communities for Thanksgiving, the UBA is calling for a ceasefire in our communities."
The businessman said that UBA said that recent months have been an impact for poor families, who have lost their jobs due to the COVID-19 pandemic, as well as the consequences of the reforms to bonds in the justice system and the reduction to the police budget. These factors have created the factors for the perfect storm to generate looting, shootings and anarchy.
"Thanksgiving is a time to give, a time to thank God for all human beings. The winery owners have been the target of many assaults, robberies, shootings and murders and we must stop the violence now, "said Carlos Herrera, secretary of the UBA.
In the act of delivery of the turkeys and the bags of food, was Juanita Holmes, the Chief of Patrol of the NYPD, who assumed that position three weeks ago and is the first woman to be appointed to that hierarchical position.
"It is a noble task to ensure that 600 families eat turkey for 'Thanksgiving.' Thank you to everyone who made this possible ", said the official on her Twitter account.
Meanwhile, Fernando Mateo, UBA spokesperson stressed that it is necessary to continue building goodwill in the communities and not allow criminals to invade the streets with violence.
"Chief Juanita Holmes and the officers in command of Barracks 40,42,43,44,46 in The Bronx, took part of the UBA initiative to implement the launch of" Pick up a turkey, put down your weapons. These barracks were selected because they have the highest crime rate in New York, "Mateo added.