New York :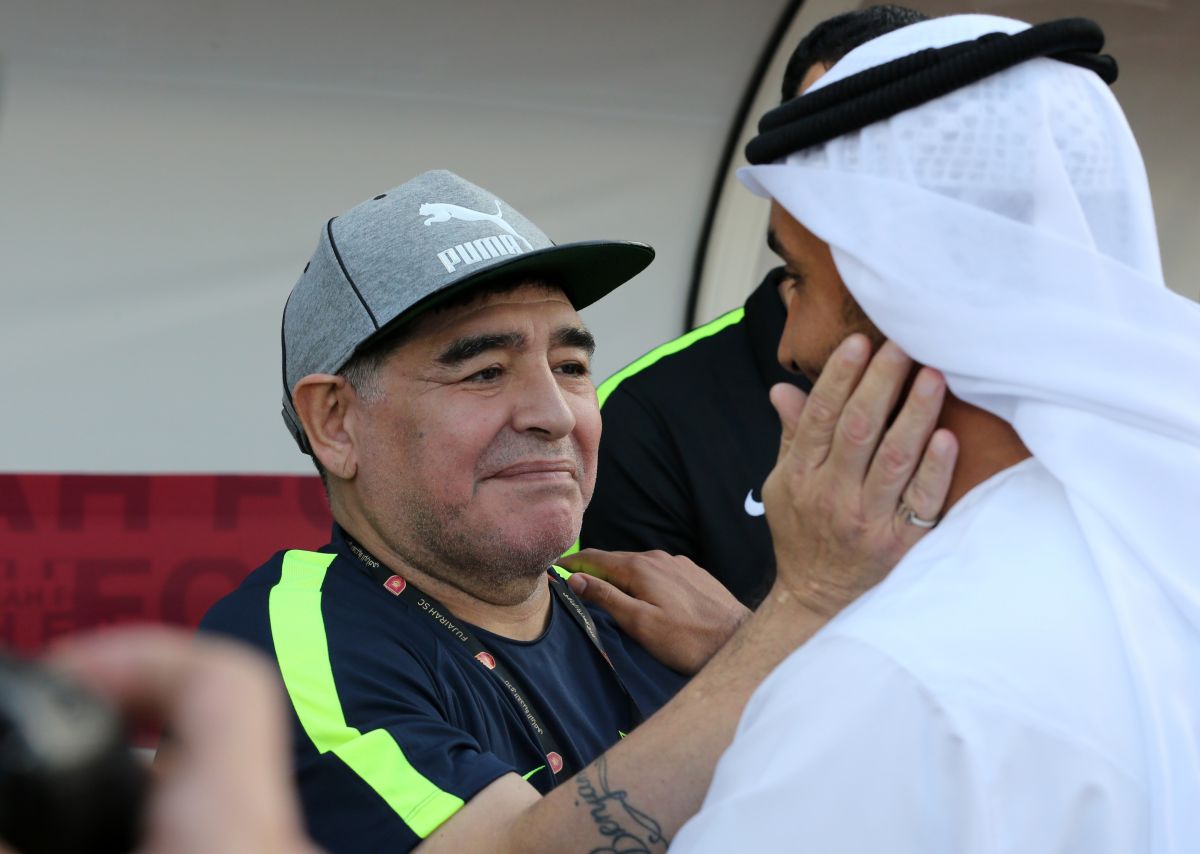 The Argentine idol led the UAE team in the 2017-18 season.
Photo: KARIM SAHIB / .
Two weeks after the death of Diego Armando Maradona, details about their customs in life continue to emerge and this time it was Gabriela Caamano, who detailed some of his customs while directing to the Al Fujairah of the second division of the United Arab Emirates.
Caañamo, who was the assistant and right hand of Diego Armando Maradona at that time, during the 2017-18 campaign, spoke about the luxuries, tastes, order and the good heart that characterized him during his stay.
"He was just another king. His house was magnificent, a palace, everything shone. The life he had there I don't think he lived anywhere else. He liked that everything had its order, its place, and had its schedules, I played soccer, played table tennis and watched matches"He recalled in an interview for the CNN Radio program El Espectador.
"He was an exceptional, generous and caring being who opened the doors of his home to journalists, friends and family. Sometimes people came from other countries and they knew where he lived, they would knock on the door and he would go out, take photos and sign autographs"He added.
Video: Gabriela Caamano, Diego Maradona's right hand in Dubai, broke the silence https://t.co/7HzfMf1TDI

– MSN Argentina (@msnarg) December 8, 2020
Gabriela also stated that Maradona was a family man, that he always spoke well of his loved ones, that he missed them, and that he longed for a reunion with everyone.
"It was a very organized life. He had his hours to eat, to go to work, to go to the club, to train, to sing, drink mate and talk about his family. He loved to sit and remember his childhood, his parents and he loved his children every day, there was not a day that did not remember them. And he always spoke well of everyone and longed to see them. His dream was to have them all sit at a table "commented on this.
Finally, the assistant who moved with Maradona for a full year reiterated that the former footballer was very strict with the order and schedules, mainly when taking his medications, since he did not want to have complications in that regard.
"I can attest that he was (strict with his medicine) like that because I moved with him for a whole year from Sunday to Sunday and the other years I had my apartment outside but I would arrive very early and leave after giving him the last coffee… give me or Rocío the medication, "he said.
🇦🇪🔟 Al Fujairah, the UAE team that Diego Maradona stopped directing in 2018, paid a very special tribute to Ten

📹 @fujairahclub pic.twitter.com/lTlMcd1HA1

– Diario Olé (@DiarioOle) November 27, 2020