New York : More than $ 2 million in wages stolen during the COVID-19 pandemic will be returned to workers
August 30, 2020
Labor Rights Week begins, a joint initiative between several Latin American consulates, advocacy organizations and the New York City Comptroller's office
NEW YORK.– The theft of wages, particularly from immigrant workers, is one of the practices that has been combated in the city and more so during the COVID-19 pandemicrevealed the New York City Comptroller's Office and in the framework of which he announced that almost $ 2 million in stolen wages have been returned to more than 100 workers during the months of the health crisis.
To reinforce this work, from this Monday until Friday, September 4, the Labor Rights Week will take place, an initiative established by the Consulate of Mexico in New York, to which the Coalition of Latin American Consuls in New York joined ( CLACNY), various advocacy organizations along with the New York City Comptroller's Office.
During Labor Rights Week, there will be several "Know Your Rights" virtual workshops, where you will be brought up to date on laws, resources and tools to prevent contractor abuse as well as to recover wages owed.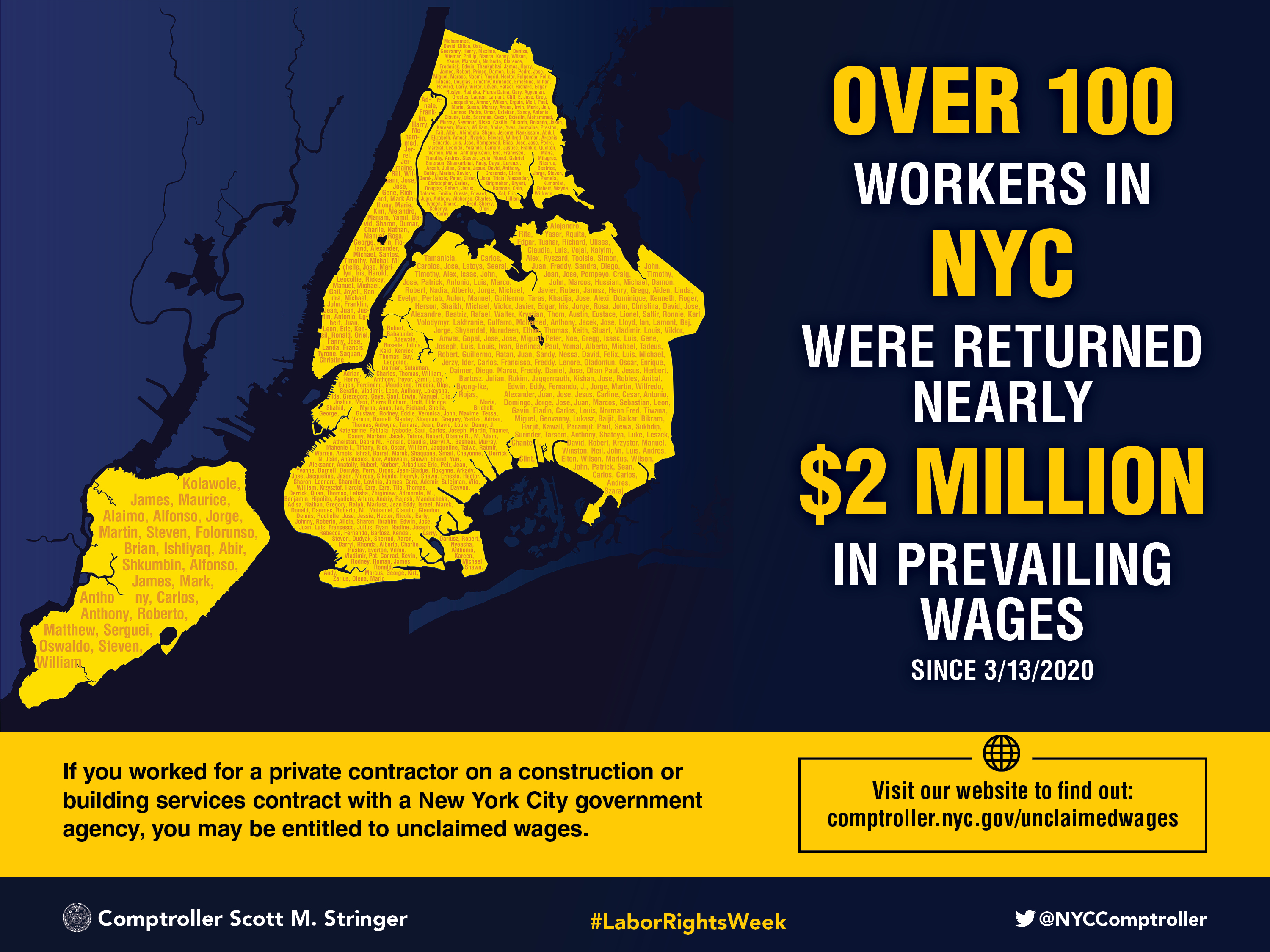 "I believe that workers are their best advocates when they know their rights, which is why community-based associations are so important," said the Comptroller Scott M. Stringer. The official added that his office is committed to enforcing current wages and at the same time connecting workers with companies that owe them payments for work performed.
"The economic fallout from COVID-19 has made this work more important than ever, and I am proud that our redoubled efforts have brought justice to more than 100 workers during these last few months of uncertainty," Stringer said.
The Ecuadorian Santiago and his son Gennaro are among those workers who were favored with the return of wages stolen by the contractor.
"I am glad to receive the money we worked hard for. We are very happy that justice has been served, "said Gennaro, who was born as a result of Santiago's marriage to a Puerto Rican.
"They both work in the construction industry. Our office uses to keep the surname of the workers involved in reserve to protect them from eventual reprisals, "he said. Jossiel Star, spokesperson for the New York City Comptroller's Office.
On your part, Jorge Islas, Consul General of Mexico and president of the CLACNY, said he welcomed the determination and commitment of the Comptroller's Office to ensure that all workers, men and women, regardless of their immigration status, are compensated for their hard work.
The diplomat added that he will continue to strengthen the alliance with all city authorities to fight against all practices of discrimination and workplace abuse, and to encourage all New Yorkers to report them and claim their lost wages.
"We are living in extremely difficult times, but supporting migrants in the region will undoubtedly help New York City to recover from these extraordinary circumstances," said the Mexican consul.
According to information provided by the comptroller's office, every two years a Memorandum of Understanding (MOU) between the Comptroller's Office and the Consulate of Mexico to promote labor rights and advocate for workers. The Mexican consulate has similar MOUs with the New York State and United States Departments of Labor. For the Comptroller's office, the goal of the MOU is to ensure that workers are aware of their rights to prevailing wages in City-funded public workplaces. The Comptroller's Office recovered unpaid wages with interest for workers regardless of their immigration status, whether they still live in New York City or not.
"Since immigrants make up more than half of our frontline workers and thousands are ineligible for help, it is vital that workers receive every penny that is owed to them. Even in the best of times, rampant wage theft remains a reality for many New York workers, "he said. Steve Choi of the New York Immigration Coalition.
"Wage theft is a persistent and pervasive problem in New York, where employers constantly cheat workers with money they legitimately earn," he said. Deborah Axt, CEO of Make the Road New York.
Ext congratulated the Comptroller's Office for fighting to recover workers' wages and sending a clear message to employers that this type of behavior will not be tolerated.
Since 2014, Comptroller Stringer's office has assessed more than $ 30 million in wage violations by contractors and returned more than $ 15 million to workers who were cheated out of their wages. He has also sanctioned disqualifying some 60 contractors who took advantage of workers, which set a record for the city's comptroller's office.
Meanwhile, Jonathan Westin, CEO of New York Communities for Change revealed that employers across the city continue to cheat workers out of their hard-earned wages.
"We applaud Comptroller Stringer for standing up and helping workers who are owed thousands of dollars in compensation. We will continue to work hand in hand with him to combat wage theft across the city, "Westin added.
From the Asian American Federation (AAF) It was also underlined that workers, who have always been vulnerable, are suffering more than ever and the economic consequences of the Covid-19 pandemic have only just begun.
"It is even more crucial in this economic climate that contractors who receive public dollars do the right thing with their workers and pay them fairly. We are pleased that workers have the opportunity to claim their stolen wages and we will work with our agencies to spread the message to the Asian community, "he said. Jo-Ann Yoo, Executive Director of the AAF.
Virtual activities and seminars
August 31, 11:00 am – Mexican Consulate Labor Rights Week kick-off event through Zoom and @FacebookLive
September 1, 5:00 pm – St. Jerome HANDS Community Center in The Bronx via Zoom
September 2, 5:30 PM – Mixtec Organization via Zoom
September 3, 6:00 pm – New York City Comptroller's Office via Zoom and @FacebookLive
September 4, 6:00 pm – La Colmena, Staten Island via Zoom and @Facebooklive
September 4 and 11: 00 AM – Consulate of Mexico and CLACNY via Zoom and @FacebookLive
Where to report wage theft
Workers who believe they may be entitled to unpaid prevailing wages can call the Comptroller's hotline at (212) 669-4443, send email inquiries to laborlaw@comptroller.nyc.gov, or check the company's mobile website. Comptroller at http: //www.comptroller. nyc.gov/wages.