New York :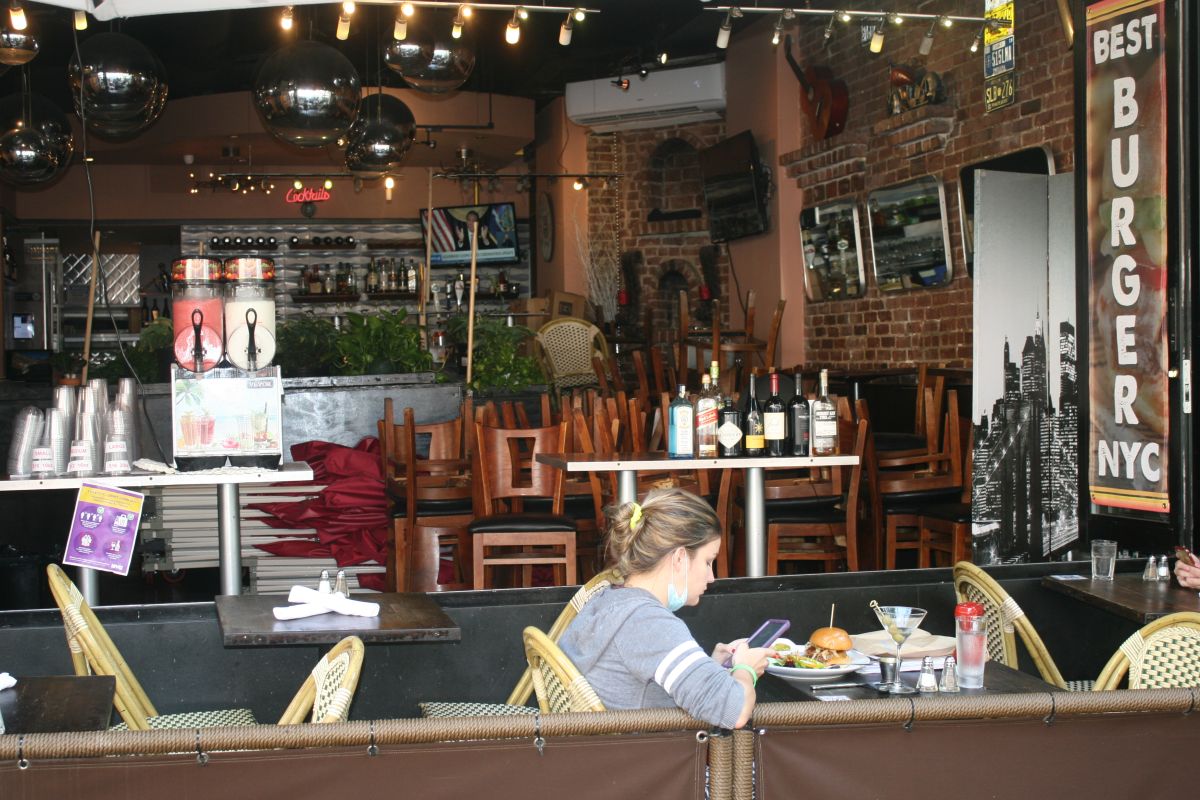 If in the next five days does not stabilize and the rate of hospitalized patients for complications with COVID-19 is reduced, Governor Andrew Cuomo warned Monday that restaurants in the Big Apple must close their interior service and those of the rest of the state will have to reduce their capacity to 25%.
If the escalation of patients with complications from coronavirus in health centers does not stop, as soon as next Saturday, it could be officially decreed the measure that must be fulfilled from next Monday, impacting an industry of 27,000 businesses that is already trying to survive the pandemic in New York City.
But the authorities announce other more radical measures: if in a period of three consecutive weeks the hospitals exceed their capacity of inmates by 90%, according to the population characteristics of each region, it is on the table a more radical new announcement of total economic closures.
"We will have no options. It will not be something discretionary. If hospitals begin to collapse, we will re-apply more restrictions. This will depend a lot on the intelligence of New Yorkers on holidays that are to come ", confirmed Governor Cuomo.
In the Big Apple, the number of people admitted to hospitals due to a serious situation due to COVID-19 has rebounded in a 120% in the last three weeks.
From last Wednesday to last Sunday they are added more than 1,100 hospitalizations in all regions of New York State.
NEW: If after 5 days a region's hospital rate has not stabilized, indoor dining will close or be reduced.

-In NYC, indoor dining would close entirely.

-In rest of the state, indoor dining would be reduced to 25% capacity.

– Andrew Cuomo (@NYGovCuomo) December 7, 2020
Volunteers expected in hospitals
The new protocols to curb the virus announced by the state president and derived from new recommendations from the Centers for Disease Control and Prevention (CDC), link control policies to COVID-19 more to the rate of hospitalizations than to average number of new infections.
"Do I think that between now and five days we will see a stabilization rate in New York City? I would be pleasantly surprised. I don't think it's likely, but it's possible", Indicated the president.
The State Health authorities are trying at all costs to avoid a repeat of the nightmare of last spring, when hospitals lived the hellish experience of being saturated with patients they had to be treated even in waiting rooms.
The Governor asked public and private hospitals to increase their capacity by 25% and opened a compass for retired nurses and doctors to "get back to service" amid a continuing spike of COVID-19.
The hope for increasing response capacity in health centers, especially in intensive care units, is that at least 20,000 volunteers are available to attend critical pointsIf, as prevented, hospitals begin to saturate.
In the immediate term, it is not in the line of possible radical restrictions regarding the monitoring of hospital capacity, other nonessential businesses like hair salons and nail salons. Although it is warned that after the Holidays, when undoubtedly an escalation of infected will be observed, the measures could change.
Middle of January: "dark time"
Cuomo, who was accompanied at his press conference by Dr. Anthony Fauci, director of the National Institute of Allergy and Infectious Diseases to discuss the challenge facing New York, he was categorical in reiterating that in the middle of next January it could be "A really dark time."
The "account" in which Fauci agrees with the state and local authorities is that if he does not achieve a change in behavior in the social and family gatherings typical of Christmas, Hannakak and New Years celebrations, the effects on the rise of infections will be specified in a period of two weeks.
According to the scientific experience of the celebrations of 'Thanksgiving' it was detected that the 70% of new infections They were the result of small family gatherings with the presence of asymptomatic carriers of COVID-19, Fauci recalled.
COVID-19 is "measured" differently
Meanwhile, the Health authorities of the city of New York announce changes in the way how indicators of the advance of the viral infection are analyzed, taking into account the variable of the mass of the tests City-facilitated disposal facilities in all five counties.
Mayor Bill de Blasio explained that the "Daily photography" of COVID-19 In the Big Apple, it will no longer depend on the daily positivity rate, but on the average range of infected every seven days, which this Monday was at 4.98%. A few tenths of 5%, whose protocols impose new restrictions.
"These changes are pertinent and more adjusted to reality, taking into account how we have increased our testing capacity"Reasoned the Mayor.
Likewise, Dr. Dave Chokshi, commissioner of the City Department of Health (DOHMH), stated that the "changing situation" required new updated daily indicators.
"In addition to eliminating the daily positivity rate, the indicators will now include new cases and 'probable' hospitalizations per 100,000 inhabitants. Cases detected by coronavirus antigen tests will be counted as probable, because they are not yet as accurate as PCR tests, "Chokshi stressed.
The Big Apple counts 2,180 new cases of coronavirus, of which 616 were classified as "probable", according to the new indicator shown by the authorities.
The current hospitalization rate was also reported to be 2.28 patients per 100,000 inhabitants in an average of seven days. The goal of the City is to flatten that curve to two hospitalizations.
More hospitalized:
144 new hospitalizations They were held this Sunday in health centers in New York City for complications associated with coronavirus, while the threshold of "alert" is 200.
4,602 hospitalizations for COVID-19 statewide, 160 more patients than the previous day.
1,416 of these seclusions hospitals are registered in the Big Apple, which means 0.02% of the population.
872 they are interned in intensive care centers throughout NY, that means 22 more patients than the day before.
477 are intubated due to complications of severe respiratory symptoms associated with the coronavirus, 16 more than the previous day in the state.
50,000 beds of hospitals are quantified in NY.
79 deaths across the state this Sunday.
4.27 is the COVID-19 positivity rate in NY.