New York :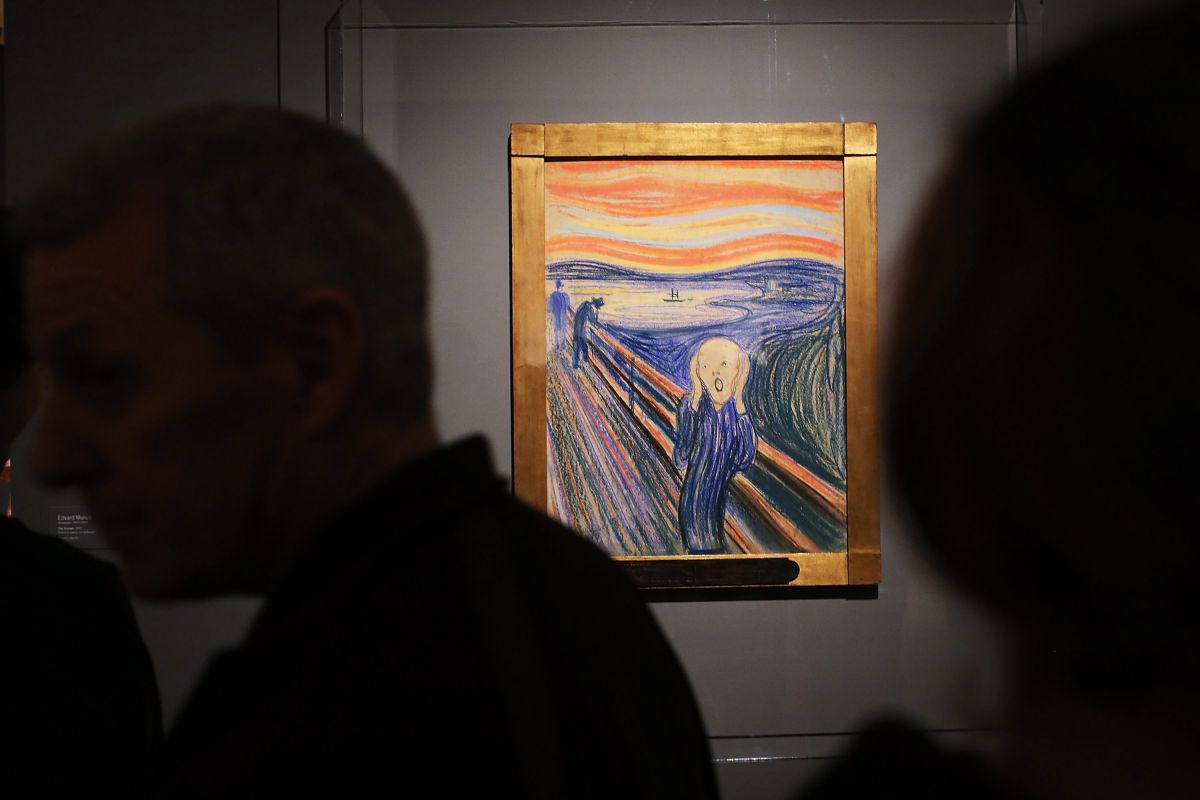 The famous work, executed in 1893, will be exhibited in the National Museum of Norway from 2022.
Photo: Spencer Platt / .
For years, an almost imperceptible sentence in one of the most famous paintings in art history caused a lot of conjecture.
In the upper left corner of "The Scream", by the Norwegian artist Edvard Munch, could be read an enigmatic message written in pencil: "It could only have been painted by a mad man."
Now, with the help of infrared scanners, ehe National Museum of Norway has been able to confirm that the sentence was written precisely by Munch.
Guesses for years
The original painting, first exhibited at Munch's home in Oslo in 1893, has become a radical and timeless expression of human anxiety.
Its influence is such that it inspired horror movies in Hollywood in the 90s and is currently represented by an emoticon that we use frequently in our chats.
In recent months, the piece has gone through conservation and preparation processes because it will be installed in a new museum that will open next year in the Norwegian capital.
For years, art curators conjectured whether the message was an act of vandalism by a viewer or whether it had been written by Munch himself. known to suffer from mental health problems in his life.
The museum finally concluded that the words were written by Munch, after comparing the line with the calligraphy that the artist left in his diaries and correspondence.

"There is no doubt that the writing is from Munch," said Mai Britt Guleng, curator of the museum.
"The calligraphy itself, and the events that happened in 1895 when Munch first exhibited his painting in Norway, all point in the same direction," added the expert.
In 1994, "The Scream" was stolen from a Norwegian art museum. Years later, in 2006, the work was recovered in a sting operation by British detectives.
"Deep feeling of anxiety"
The play provoked strong criticism at the time. There was also speculation about Munch's mental health.
The artist, according to his diaries, was deeply hurt by the reaction to his work. It is believed that it was then that he returned to the painting and, with a pencil, left the message that is now attributed to him.
Both Munch's father and sister suffered from bouts of depression and the artist was hospitalized in 1908 due to a nervous breakdown.
His mother and older sister died before Munch was 14 years old. Twelve years later, her father died and another sister was admitted to a psychiatric hospital with bipolar disorder.

"For as long as I can remember, I have suffered a deep feeling of anxiety that I have tried to express with my art," Munch wrote.
"Without this anxiety and illness I would have been like a ship without a rudder," he said.
In 2019, BBC Arts wrote that the piece was "an expression of his anxiety at a turning point in history, in a world increasingly removed from old traditions," and noted that "there are clear parallels with today's world."
"This is undoubtedly the reason why 'El grito' retains its power despite its ubiquity: it is a mirror of our own contemporary fears. Inside, aren't we all screaming too?
"The Scream" will be exhibited at the National Museum of Norway from 2022 along with other works by Munch, such as Madonna, The Dance of Life and Self-Portrait with a Cigarette.
---
Now you can receive notifications from BBC Mundo. Download the new version of our app and activate them so you don't miss our best content.