New York :
Correspondence with prepaid debit card (EIP Card) with the second round stimulus check sent by the federal government clearly specifies that it is an "Economic Impact Payment Card" in the shipping envelope, which also contains the stamp of the Treasury Department.
Last week, the Treasury confirmed the shipment of 8 million cards after, together with the Internal Revenue Service (IRS) begin the process of distributing aid with direct deposits.
Changes to the EIP Card envelope
A statement from the federal agency includes images of how the letter containing the card will arrive.
Among the specifications, you will be able to read in the envelope the following: "It is not an invoice, nor an advertisement. Important information about your Economic Impact Payment ".
Additionally, you will see your name on the wrapper.
The card, however, contains the same design as those sent last May.
"EIP Cards will be shipped in a white envelope that prominently displays the seal of the Treasury Department. The EIP Card contains the Visa logo on the front, and the name of the issuing bank, MetaBank®, NA on the back. Each shipment includes instructions on how to activate the card safely and use it ", reads the statement from the Treasury on its website.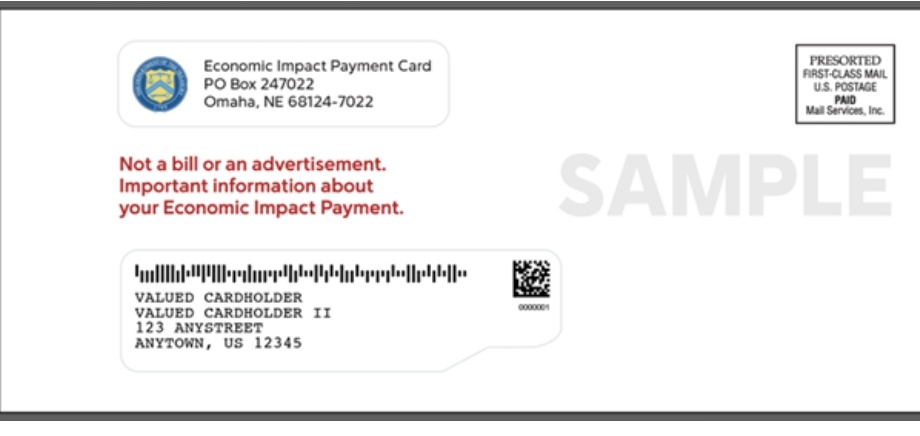 Debit cards in all 50 states
The press entry adds that the plastic money was issued to eligible recipients in the nation's 50 states and the District of Columbia.
"In order to quickly disburse the EIP Cards, some people who received payments by check in the first round could receive an EIP Card this time, and some people who received an EIP Card in the first round, could receive a check in the second" , specifies the press release.
The entity did not detail what requirements were established to select the people who will receive the payment in this way, apart from the fact that they are Americans who did not provide their information to the IRS for direct deposit.
Card confusion in the first round of stimulus checks
The changes to the appearance of correspondence seek to avoid the confusion created by the generic image of the mail piece in the first round of payments, which led to thousands of Americans throwing away the cards thinking it was fraudulent material.
To try to correct the flaw, authorities waived the charge for the first replacement of the card.
Here you can read more about the scope of EIP Cards with a stimulus check, including other applicable fees on some transactions.