New York :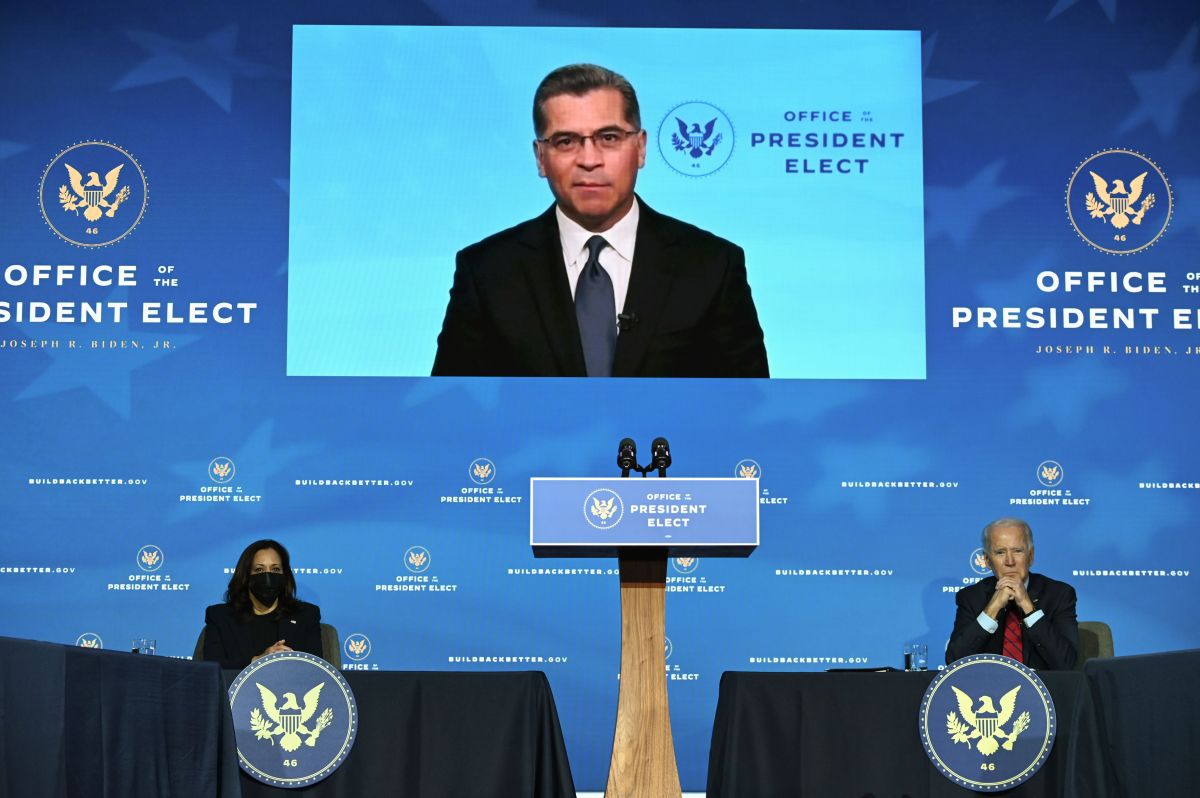 This Tuesday, the president-elect Joe biden officially introduced his health team, which is led by the California attorney general, Xavier Becerra, who has received broad support from organizations in defense of civil rights, including those related to the environment.
At an event held in Delaware – which was also the Vice President-elect Kamala harris-, Becerra thanked his nomination, where he highlighted the priorities of the president-elect in health matters, but spoke of the importance of defending civil rights and generating greater equity.
"It is our turn to strengthen and support our doctors and medical professionals, our hospitals and clinics, fighting the coronavirus", He expressed. "(It is) our turn to restore faith and trust in our leaders to provide solutions that unite us, heal us and immunize us from fear."
He highlighted that HHS has a second "H", referring to "humans" and focused his perspective on children, the elderly and the disabled.
He spoke of his father, Manuel, who died a year ago surrounded by his family at home, to establish that "no one should die alone" in a hospital. He also referred to his mother, María Teresa. He recalled that his parents lasted 67 years together. He working in construction and with barely a primary education. She as an office worker. Both gave education to their four children.
"Manuel and María Teresa only had health and hope when they arrived in California", he expressed. "They built a pretty good society that lasted 67 years. Along the way, they sent four children to college and the Army. They opened the door for me. I am enormously grateful to them ".
Among the groups supporting his nomination are Voto Latino, the Center for American Progress (CAP), the National Association of Latino Democratic Officials (NALEO), in addition to the National Hispanic Lawyers Association (HNBA) and Climate Power 2020.
"Attorney General Becerra has a long-standing relationship with the HNBA and has extensive experience in both state and federal government, a qualification necessary to coordinate and direct the largest civil agency in the country.", highlighted Elia Díaz-Yaeger, President of the HNBA.
The activist called on the Senate to support the nomination of prosecutor Becerra, as well as Alejandro Mayorkas, nominated to head the Department of Homeland Security.
The group Climate Power 2020 He felt that Becerra's nomination also sends an important message from President-elect Biden on climate issues.
"There is an undeniable connection between the climate crisis and public health. Becerra's nomination shows Biden's commitment to environmental justice, public health and how climate action must be a central function of HHS's role. ", said the association.
He highlighted that Latinos are a vulnerable group about the effects of pollution, as the National Hispanic Medical Association found that they are 51 percent more likely to live in counties with unhealthy ozone levels than non-Hispanic whites, in addition to 1.81 million live within a kilometer of existing oil and gas facilities.
In addition, in 2017, HHS found that Latino children are twice as likely to die of asthma as whites, the group warns as part of its support for Becerra.
And who is opposed?
Prosecutor Becerra faces voices against him, mainly from anti-abortion groups.
Marjorie Dannenfelser, president of the organization List by Susan B. AnthonyHe even announced that President-elect Biden will be the "most extreme" president against abortion and accuses that the prosecutor Becerra will implement several policies that he has defended in court.
"Becerra is aggressively (sic) in favor of abortion and is an enemy of freedom of expression," said Dannenfelser.
He accused the Attorney General of "trying to force California's pro-life pregnancy centers to advertise and recommend abortion, a policy that the Court rejected as unconstitutional."
To that position was added Jeanne F. Mancini, of the group March for Life, who insisted that the next administration would be the most "radical" in the defense of abortion.
"Becerra has a long and hostile record toward pro-life Americans," he said.
W / @JoeBiden's pick of @AGBecerra for HHS Secretary, we are seeing him make good on his promise to become the most radically pro-abortion president in history. 1/2

– Jeanne F. Mancini (@jeannemfl) December 7, 2020
President-elect Biden and Vice President-elect Harris officially introduced those who will be challenged to face the worst months of the COVID-19 pandemic, as well as recovering health and immunization.