New York :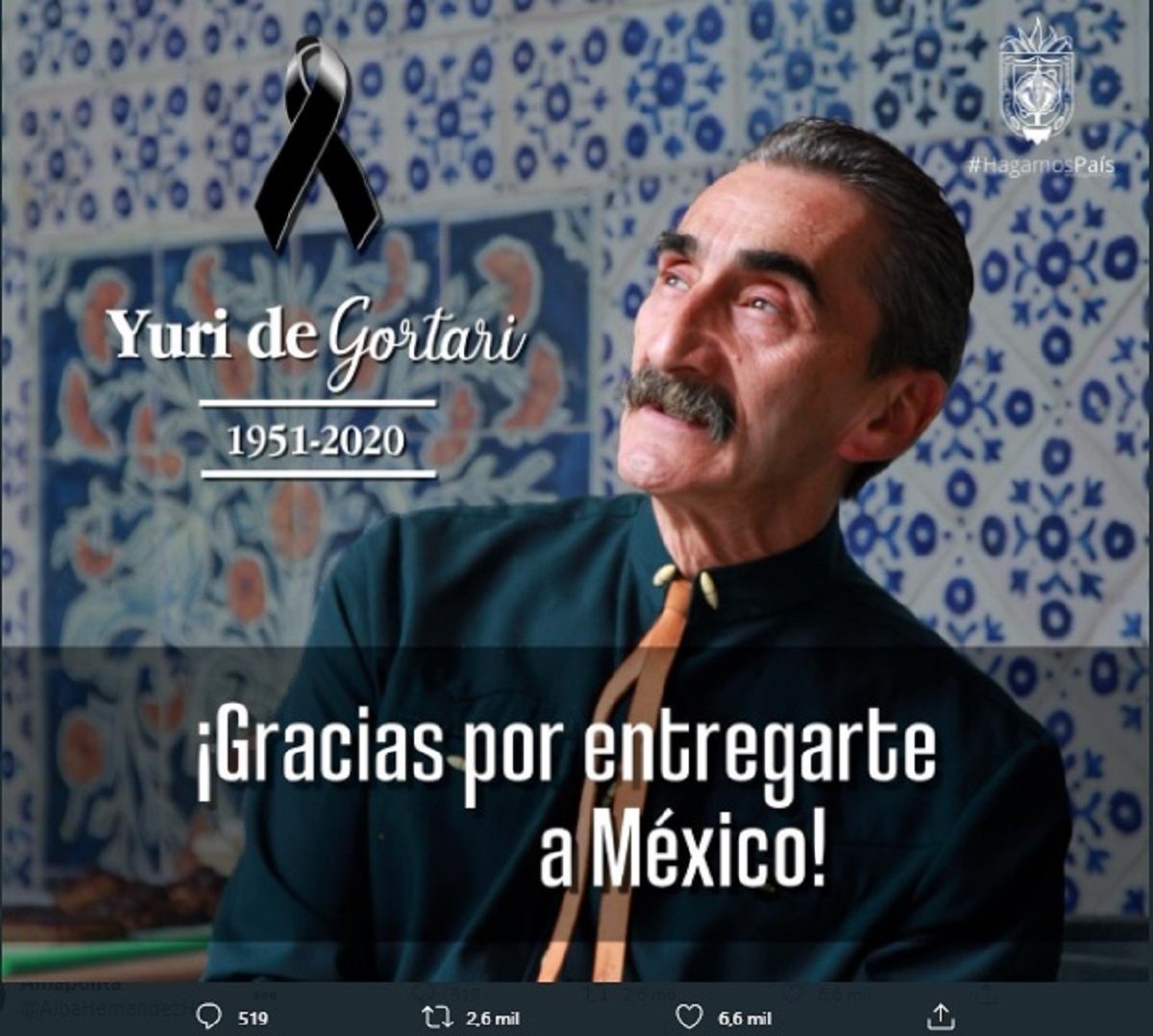 Mexican cuisine has lost a great chef, researcher, and renowned promoter. Yuri de Gortari He passed away this Tuesday night at the age of 69. During his long career, he was an inspiration to many Mexican chefs and left a great legacy.
Master Yuri was passionate about Mexican Kitchen. Three decades ago, together with the gastronomic historian Edmundo Escamilla (who died in 2018), he founded the School of Mexican Gastronomy, only school specialized in traditional Mexican cuisine which enjoys international recognition.
Yuri de Gortari recognized and disseminated the value and richness of Mexican cuisine, its ingredients, its techniques, the aromas, the textures, the flavors, all the magic and mysticism, a living heritage since pre-Hispanic times.
Lover of Mexican literature and cuisine
The faithful admirer and promoter of Mexican cuisine was born in Mexico City on July 15, 1951. He studied Hispanic Language and Literature at the Faculty of Philosophy and Letters of the National Autonomous University of Mexico.
Forbes magazine recognized Yuri de Gortari as one of the most influential Mexican chefs in the world and twice he won the National Gastronomy Award in Spain for his work in researching and disseminating traditional Mexican cuisine.
The Financier points out that Yuri was co-author of seven books and various articles in newspapers and magazines about Mexican gastronomy, among them, Chocolate souvenirs; Mezcal, our essence; The flavors of Europe in Mexican cuisine; Corn in the world, essence and presence, among others.
Master Yuri was also a host in various programs, including Traditional Mexican Cuisine from Channel eleven, From the National Polytechnic Institute, where he shared his knowledge and old recipes.
The great Mexican chef had a YouTube channel called Cocina Identidad. In his latest publication you can read: "Thank you for all your comments, we have had better times, of health, of spirit and of time to record recipes for them. I promise you that once we get out of this one, I'll post more often. "
The causes of Yuri's death have not been detailed. School of Mexican Gastronomy, reported through social networks that the teacher died quietly at home.
Yuri de Gortari was a man very loved and respected by the gastronomic guild. Chefs, their students, friends and followers, have made public their condolences. Among those that can be read: "Master Yuri, the dishes, oven, ladles, pots, your kitchen, we mourn your departure. Nobody like you will teach us to cook with that love, that taste. Your legacy will remain forever… ".
El Once mourns the death of chef Yuri de Gortari, a passionate lover of traditional Mexican cuisine and a long-time collaborator of this station. Much of his legacy and knowledge is protected with great affection and admiration in our VOD collections. @esgamex https://t.co/PmQRwRjEim

– Channel Once (@CanalOnceTV) December 9, 2020
Today the teacher #YurideGortari she is reunited with her lover
Mundito … today his legacy and his great love for Mexico and its cuisine remains a Legacy @YuriyEdmundo #Without corn there is no country hugs as far as they are … and then we catch up with them !!!! @esgamex supportive hugs full of affection !!

– Aquiles Chavez (@AquilesChavez) December 9, 2020
Sad loss of a great cook and master of the #Mexican Kitchen, the great #YurideGortari Krauss. We will remember him for his great recipes and research … pic.twitter.com/xrjfN844LL

– Chef Rodrigo Mora (@rodrigomorachef) December 9, 2020
It may interest you: