09/06/2021 at 7:51 PM CEST
After winning the eight editions disputed to date, FC Barcelona will look for its ninth Catalan Super Cup this Tuesday at 8:45 p.m. (Esport3) at the Palau Olímpic against host Fraikin Granollers.
Three days after expanding his hegemony in the Spanish Super Cup with more problems than expected to raise the ninth in a row and the 24th on the aggregate against a renewed and shameless Ademar (30-27), the new Barça project led by Carlos Ortega on the bench and Xavi O'Callaghan on the noble floor He is looking for his second success today before starting the Asobal League with the Club World Cup (Super Globe) in October as the next challenge at the title level.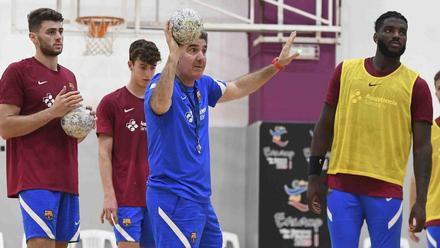 The Barça continues taking steps forward with Ortega
| FCB
Two casualties
On the downside of a renewed Aitor Ariño until 2025 who continues to recover from his rupture of the anterior crusader of the left knee has now joined that of a Timothey N'Guessan that does not finish having the continuity it needs.
The Gaul continues with a jinx that has haunted him since his arrival at Barça in the summer of 2016 with a concatenation of problems that have prevented him from becoming a benchmark, something for which he is trained. Now he will be KO for a month due to the fibrillar tear in the inner calf of the right leg that occurred last Saturday.
Preceding
The two Catalan teams of the Asobal League have already met this summer at the same venue in the Granollers Tournament, which ended with a clear victory for Barcelona by 27-39.
Those of Antonio Rama come from passing round in the European League despite losing in the return leg to HC Prolet 62 (27-29 after winning 21-36 in the first leg in Macedonian lands). With regard to the referred friendly, Granollers have recovered the emerging Jan Gurri, recent European youth bronze with Spain.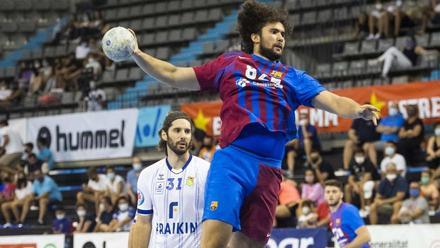 Luís Frade, in the recent friendly against Granollers
| FCB
The Mister, without concessions
The new Barça coach Carlos Ortega He has barely had a truce before starting to play the first titles as a coach. "The team comes from having almost no rest. These first days we have gotten used to each other and there is still a long way to go, but I am very happy with the work and with the dedication of the players. We still have games ahead of us, but the season has already started and we have to keep taking the games forward. And today is one more title & rdquor ;, commented the man from Malaga.
"They play very well in position, with rich tactics and good game with the pivot, which is something that is costing us. Plus it's on your track and Matches against Granollers are always of maximum rivalry& rdquor ;, added the Barça manager.