That the accelerated placement of the shares in the hands of HSBC has been carried out at yesterday's closing prices, very different from what happened yesterday with Cellnex shares, is encouraging investors to enter Prisa and has led to its listing above the maximum price set in December.
This means that the stock continues to recover the ground lost in March and following months due to the Covid-19Although the effect of today's news remains to be seen if it lasts for hours or on the contrary supports the price above one euro unit.
Whatever happens, the really important thing is that the pattern of increasing lows started last October remains intact. Fact that will occur as long as we continue to see sustained closures above 0.884 euros. So the margin is very wide.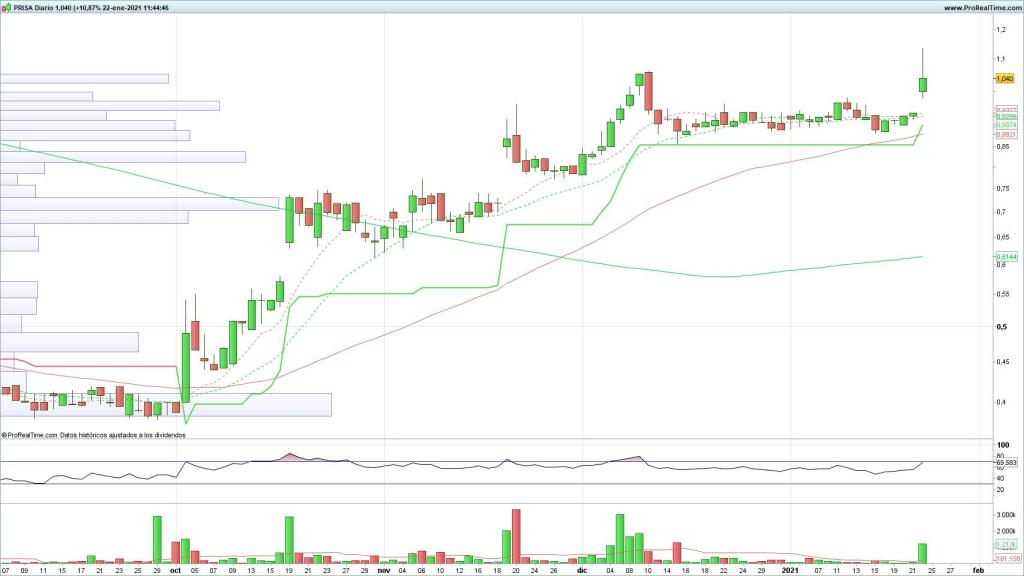 However, as we are seeing in the graph the force of the climb fades with the passing of the hours in the action and at the close 'only' it rises 9.59%.
This is very reminiscent of the scenario experienced yesterday with the Cellnex shares, which ended up closing far from the maximums set in the session yesterday although they maintained the bullish opening gap and today they went against the tide, rising almost 3.88%.
The problem in the case of Prisa is that the attack on the highs of last December, if the price closed this Friday, would be a false break to great resistance and that does not exactly leave a good technical aspect.