09/10/2021 at 6:30 AM CEST
Born on the outskirts of Columbus in little Westerville (40,000 inhabitants), Nigel Hayes faces the great challenge of his career at Barça at 26 years old (will turn 27 in December) After unsuccessfully trying his luck on three NBA teams, starting his European adventure at Galatasaray (2018-19) and highlighting the last two seasons at Zalgiris.
In the first of them, 2019-20, He played under the command of a Saras who has been very important at the time of his signing for Barça. The American attended SPORT and he was as close as he was firm a few hours after fighting for his first title as a Barça player after losing the final of the Catalan League against BAXI Manresa.
And is that the Barça disputes this weekend an exciting Endesa Super Cup with Valencia Basket as a rival in the semifinals this Saturday (7:00 p.m., one hour less at the tournament venue) at the start of a domestic season in which they will defend their Copa del Rey and La Liga titles Endesa.
How are you at Barça?
Very well. Happy to be in one of the best clubs in the world with fans on five continents, so I am happy to be here and also in a wonderful city like Barcelona.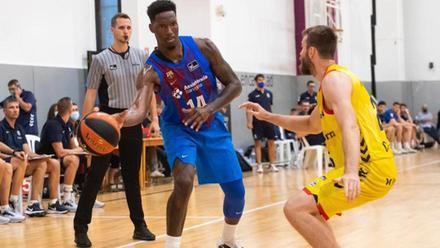 Hayes, in the friendly against Limoges
| FCB
You wanted to try again in the NBA and ended up at Barça. How did your signing come about?
I don't know, it's true that I was in my country looking at NBA options when Barça became interested in my situation. I spoke to my agent, reset my mind and … here we are.
Why did you decide to come?
I already told you that it is one of the best possible destinations, a club that always chooses to win everything. I take it as a great opportunity to continue improving and to show my level.
Do youHow important was Jasikevicius in his signing?
Saras is a fantastic coach and I know he will help me as he did in Kaunas. From the beginning I was excited to come to Barcelona and yes, we could say that it was a plus in my decision.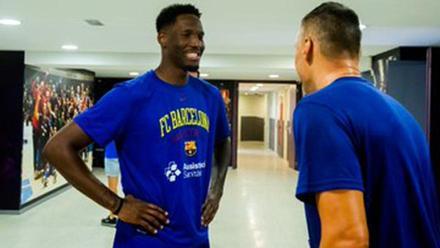 Hayes, with Jasikevicius upon arrival at the Palau
| FCB
In addition to the coaching staff, he also meets Brandon Davies ya Jokubaitis…
Of course. And it is something that is helping me a lot in my adaptation, because I also know Saras's systems. You arrive at a completely new place and everything around you is very important. I'm still learning the plays in the two positions, but everything is going very well, really.
Are you a '3' or a '4'? Or is that old basketball stuff, as they say now?
(Smile). I am not a number, what I am is a basketball player. I think it is the best answer. In modern basketball, specific positions are not as important as your ability to shoot and defend.
What do you like to do the most on the track?
The most important thing of all is that I like to win, which is everyone's common goal. I try to play with intelligence, I like to contribute positive things in attack and defense, shooting, playing in the middle post, defending. The more different things you know how to do well for the benefit of the team, the better for everyone.
Saras is very demanding and he highly values ​​that type of versatile player, who defends and who has a large percentage in triples …
He personally makes sure that everyone understands that the priority is defense. More than having a huge percentage, he values ​​that you are able to interpret the plays to contribute to the maximum in attack. It is a compendium of everything and knowing how to put all your virtues always according to the needs of the team.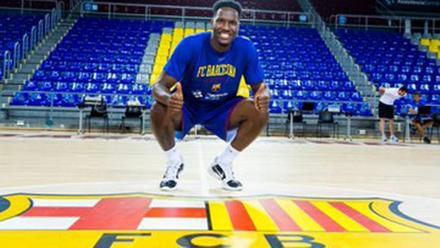 Nigel Hayes is very excited
| FCB
Do you perceive that the level is higher here than in Kaunas?
Hmm … I am so focused on myself, on improving and adapting as soon as possible that I have not paid too much attention to that. It is said that you play as you train and I only think about training better every day, connecting with my teammates and playing with energy. Be myself, come on.
You have faced Mirotic several times. What does it mean to have him as a partner?
It's great. I've always really liked watching him play. He's capable of doing almost anything right and he's incredibly talented. Whenever I have been asked about the best player in Europe, I have thought of him. Another example would be Calathes. I'm always thinking about where and how he will be able to pass the ball to me. He's super smart and that's why I've lost a pass. Give me another week and I'll be able to 'catch' them.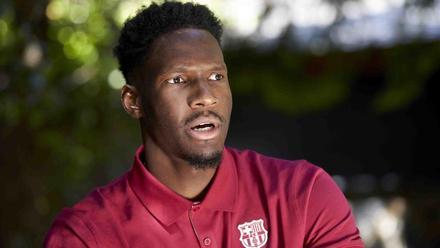 Hayes is clear and direct in his speech
| JAVI FERRÁNDIZ
In the Zalgiris you were one of the references of the team and here perhaps their role is not so important. How do you assume it?
I do not agree with you. I was not the main choice at the Zalgiris. Not the second! I think my role at Barça is going to be the same as in Kaunas. It's what I think Saras and the rest of the coaching staff expect of me, to defend to the fullest and to help as much as I can on the rebound and when shooting and scoring. There were no plays specifically prepared for me there. My points were the product of how I generated my spaces and my offensive skills. That's why I have to keep my energy full to take advantage of opportunities.
What are you looking forward to on a personal level this season?
Mine is simple. I'm trying to do something that I've heard from Kevin Durant. Take your training sessions as games and your games as training sessions. Train your abilities as hard as you can so that they are the best possible and so when the game comes, if you play to the fullest, the plays will come out. And that's what I want to do, continue to evolve as a player and do well in games.
Is your idol Durant?
Hmm … Kevin is an extraordinary player. You know? He is able to do everything easy and simplify basketball, but my favorite player is Klay Thompson (Warriors, a genius martyred by injuries).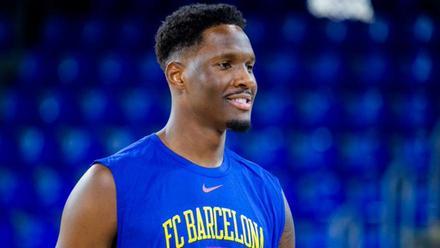 Hayes sent a smart message to the fans
| FCB
Are you excited to be in a team capable of fighting for the title in the Euroleague?
Of course. For a player it is very important to win titles and win the more games the better. We have a team full of talent and if we are all healthy, we will have many options. But the first thing is the Super Cup this weekend. We want that title.
End with a message for the Palau fans.
We are looking forward to the League and Euroleague matches to support us. Do you know what I would ask of them? That they cheer us a lot when we win and that they cheer us much stronger when we lose. Make sure they are very clear that we are going to do our best to win all the games.