09/12/2021 at 10:15 PM CEST
The night will be long and hard in the Barça expedition after wasting an income of 19 points in the middle of the third quarter and end up falling in the final of the Super Cup for the second consecutive year against Real Madrid 83-88.
Little friend of excuses, Sarunas Jasikevicius has been very critical of his players because of what happened in the final stretch of the third quarter and especially in the unfortunate final 10 minutes in which a different tactical solution was also missed from the bench for that reason to distribute the blame for the defeats.
"We should be so much more mature. When you have it within range you cannot relax or stop playing, following the rules. We have not been able at any time to have a good fourth in defense, "complained the Lithuanian.
"We are not a team that wants to kill games, we are not a 'killer' team and this preseason we have already lost two very painful finals like this. I feel like we have given something away. We have not followed our rules and it is one of the biggest disappointments since I have been here, "Saras continued.
"The worst feeling I get is that we are a team that just wants to do enough to win and go home. You can lose a period for not making triples from 12 to 16, but we have lost it from 12 to 26 and that is because our defense has not been good, "he said.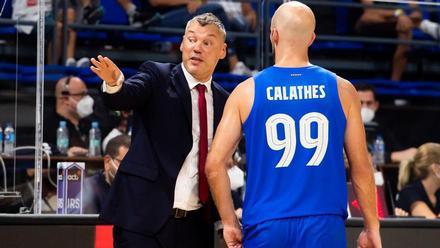 Jasikevicius also found no solutions in the end
| FCB
So sad was he that he had a hard time finding a way to define his feelings. "It is very clear that this must be a lesson, but they are very small words. What hurts the most is that we have given a title. It's a huge disappointment"Jasikevicius stressed.
Unlike what was experienced on the other bench when things did not work out, the azulgrana coach did not want to hide behind the refereeing as much as they 'swallowed' the foul on 'Rambo' Davies who could have forced extra time if he had scored all three free throws.
"In general I think the refereeing has not influenced. You always have to look in the mirror. We already had these things last year and we have to start from scratch, start killing games. We have to suffer again to be a serious team. The champions are 'killers' and we have not killed the game. In the end, anyone could win, "he explained.
As soon as the game ended, Saras was the most vivid image of negativism after losing the second title in a row and positive "I saw zero, do not lie. We have given a title to our greatest rival. What positive thing can we get out of this? Zero, these things cannot be done. "