09/12/2021 at 9:31 PM CEST
Barça fell this Sunday to a tireless Real Madrid who knew how to react when they seemed to have lost the Endesa Super Cup in the third quarter (63-44)

FCB
RMA

FC BARCELONA, 83
(24 + 22 + 25 + 12): Nick Calathes (11), Cory Higgins (16), Nigel Hayes (5), Nikola Mirotic (12), Pierre Oriola (11) -starting five-, Nicolás Laprovittola, Kyle Kuric ( 8), Rolands Smits (4), Brandon Davies (13), Àlex Abrines (3), Sergi Martínez and Rokas Jokubaitis.
REAL MADRID, 88
(22 + 18 + 22 + 26): Thomas Heurtel (7), Adam Hanga (3), Jeffery Taylor (4), Guerschon Yabusele (7), Vincent Poirier (16) -starting five-, Carlos Alocen (11), Nigel Williams-Goss (9), Tristan Vukcevic (3), Walter Tavares, Sergio Llull (24), Fabien Causeur (4) and Eli John Ndiaye.
REFEREES
Emilio Pérez Pizarro, Carlos Peruga and Luis Miguel Castillo. Fabien Causeur (18:33) and Adam Hanga (22:23), from Real Madrid, were given a technical foul.
INCIDENTS
Final of the Endesa Men's Basketball Super Cup played before 2,500 spectators at the Santiago Martín Pavilion (San Cristóbal de La Laguna, Santa Cruz de Tenerife).
Champion of the three previous editions, the white box was looking for its eighth Super Cup and the sixth against a Barça team that aspired to break a six-year drought and, incidentally, catch up with his great rival in the list of winners with seven winches.
As for casualties, the Turkish Sertaç Sanli left Barcelona's 'paint' orphaned for the fourth consecutive game, while the Madridista casualties of Alberto Abalde and those of long-term Anthony Randolph and Trey Thompkins were joined in the semifinals by a Rudy Fernández who will know this Monday the definitive extent of his knee injury.
Barça's staging was sensational. With a quick game, he dismantled the rival defense and scored four 3-pointers without failure with Oriola (two), Hayes and Calathes as actors to take five rental points in three minutes (14-9).
That dynamic broke her the entrance of a Carlos Alocen that he did not play a single minute in the semifinals and that he scored two triples in a row to force Jasikevicius to stop the game in the seventh minute at 20-18.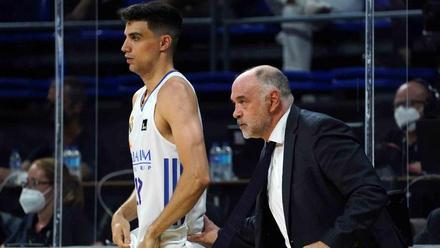 Pablo Laso had it with the referees … as always
| .
The Blaugrana had scored 16 points in the first four minutes and only four in the seconds. Coincidence or not the white defensive improvement without Heurtel? The point is that drew (22-22) with a triple Tristan Vukcevic, that promise that continues to grow in every way and that he massacred Barça in the last regular phase match of the Endesa League at the Palau. At the break, 24-22.
In the second room 'histrión Laso' appeared, although this time with some reason. The referees, who had whistled a dubious foul in Alocen's attack on Davies, pointed out another by Tavares on Laprovittola and Barça took the opportunity to leave with four points from Rolands Smits and a triple from Abrines (31-24, minute 12). And the third triple without failure (to table!) Of a Pierre Oriola who went to the locker room with 11 points.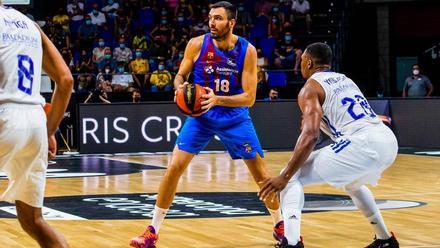 Pierre Oriola completed a magnificent first half
| FCB
A new white reaction gave Causeur the opportunity to turn the scoreboard for the first time with 33-31, but he failed and, on the contrary, it was the 2020 runners-up who took their maximum advantage from the collective game in attack and with the Mirotic's first four points (46-37 which qualified Heurtel before his former team scoring three in the last action of the first half).
When the third quarters are usually key for Pablo Laso's, this time it was Barça that touched perfection in the first four minutes of the restart with Nick Calathes (11 points) as master of ceremonies and an unstitched Mirotic who scored eight points and placed a record 59-42, minute 23:30 with a partial of 24-7 from the final stretch of the second quarter.
The Hispano-Montenegrin was intelligent and took advantage of Yabusele's forced rest to perfection, but this Madrid never gives up and, from the hand of Alocen and a huge Llull, who scored eight points in less than a minute, had returned to the game with 10 minutes to go (71-62).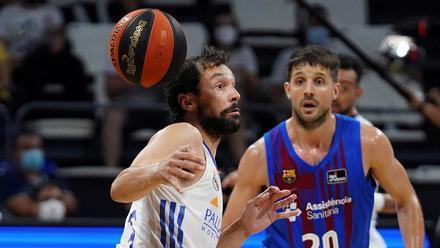 Sergio Llull rescued Madrid in the third quarter
| .
Llull was the one of his best times, they entered him until his 'mandarins' and he was already at 24 points, but he did not have the sensational response of a Higgins in a leading plan with two baskets or with Kuric's triple (79-72 with 5:29 left).
However, Barça had entered a spin, Mirotic could not with Yabusele and, between a masterful Alocén and Poirier, they brought their team closer to a single point (79-78 with 3:17 left) while the Catalans had five fouls and the whites, one. And Laso was not an actor. I was calm.
Alocen missed two free throws at 79-78, Davies scored a very 'sweaty' basket and Williams-Goss tied 1:44 from the end (81-81). And Yabusele put his team ahead for the first time since the free throw with 1:21 to go (81-83). At 83-86, an unmarked shameful foul on Davies when shooting from three sentenced the final… but the 12-26 of the last quarter is not acceptable either.