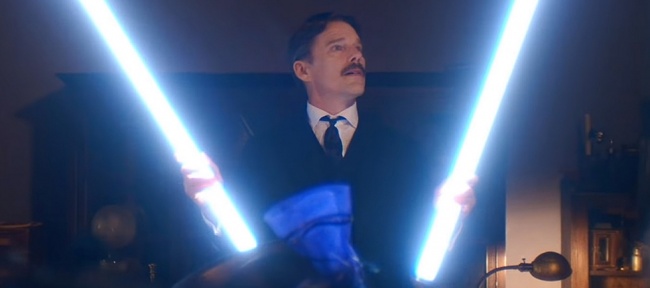 'Tesla' broadly tells the story of Nikola Tesla, known for being the great rival of Thomas Edison; for being the inventor of alternating current; for being an eccentric and brilliant genius; for being a myth wrapped in a halo of mystery that has become a historical cult figure.
For having been played by David Bowie in Christopher Nolan's 'The Final Trick (The Prestige)' or by Nicholas Hoult in Alfonso Gomez-Rejon's 'War of the Currents', too.
Ethan Hawke, enjoying an exquisite maturity as demonstrated in 'The Woodpecker', plays Tesla in this biopic written and directed by Michael Almereyda, a filmmaker who has always been known for looking for the tickles of each genre with which he has tried his luck. A filmmaker who can always be given a chance.
An always interesting filmmaker who nevertheless rarely exploits the potential of his noble intentions, which we can say also happens to 'Tesla': An always interesting film that nevertheless never manages to explode in such a way that despite its willful and praiseworthy attempts, it never ceases to be the biopic that it essentially is.
Athough it does not seems. Even if I try not to look like it, maybe not be either. However, 'Tesla' cannot get rid of the label of being a biopic, one of many that cannot overshadow the figure of those who are a shadow. The man, the myth, the legend. And just a movie that does seem better than it essentially is.
That can be seen, easily and with pleasure, but it is neither as intense as 'The War of the Currents' nor is it capable of rivaling David Bowie in our head. Perhaps, as Nolan did at the time or Almereyda himself with Stanley Milgram in 'Experimenter', they should have focused their efforts on the man and not on the facts.
Because despite its benefits, this 'Tesla' is diluted in the usual framework of the manual biopic, even if it is not. Or try not to be. Or try not to look like you are.

By Juan Pairet Iglesias
@Wanchopex