09/11/2021 at 9:48 PM CEST
FC Barcelona imposed its defensive law to defeat Valencia Basket by 87-68 in the first semifinal of the Endesa Super Cup that takes place this weekend at the Santiago Martín de La Laguna (Santa Cruz de Tenerife).
FCB
VAL

FC BARCELONA, 87
(28 + 17 + 22 + 20): Nick Calathes (4), Cory Higgins (13), Nigel Hayes (7), Nikola Mirotic (7), Pierre Oriola (5) -starting five-, Nicolás Laprovittola (9), Brandon Davies, Àlex Abrines (3), Rolands Smits (10), Kyle Kuric (2), Sergi Martínez (2) and Rokas Jokubaitis (10).
VALENCIA BASKET, 68
(16 + 12 + 16 + 24): Martin Hermanssson (11), Guillem Ferrando (3), Jaime Pradilla (10), Víctor Claver, Bojan Dubljevic (6) -starting five-, Klemen Prepelic (9), Sam Van Rosson (3), Josep Puerto (11), Mike Tobey (9), Millán Jiménez (3) and Gonzalo Bressan.
REFEREES
Carlos Peruga, Luis Miguel Castillo and Martín Caballero. xxxx
INCIDENTS
First semifinal of the Endesa men's basketball Super Cup played before xxxx spectators at the Tenerife Santiago Martín Sports Pavilion (San Cristóbal de La Laguna, Santa Cruz de Tenerife).
Therefore, the team led by Sarunas Jasikevicius will have a great opportunity this Sunday to break a six-year drought in this tournament against the winner of the other semifinal to be played next by host Lenovo Tenerife and Real Madrid.
In the return a year later to the track in which he beat Baskonia in the 'semis' and fell in the final against the white box, the azulgrana team came out very psyched in defensive tasks against a rival with many casualties in which they should have quality minutes not only the already usual Josep Puerto and Jaime Pradilla, but also Guillem Ferrando and Millán Jiménez.
And it is that they were not due to various physical problems Nenad Dimitrijevic, Louis Labeyrie and Jasiel Rivero, while Klemen Prrepelic and Mike Tobey arrived between cotton wool after missing a good part of the preseason.
Aware of it, Jasikevicius was very clear about the importance of 'drowning' the Valencians and for this he designed a pressing defense at times and very intense towards the passing line that caused 10 losses to the despair of the new coach Joan Peñarroya.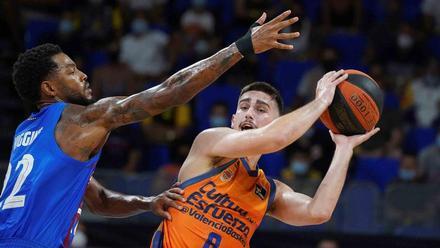 Valencia Basket ran out of ideas in attack
| .
Thus, the 3-8 favorable to the 'taronja' after two baskets by Martin Hermannsson and one by Bojan Dubljevic went to 19-8 with a 16-0 run on defensive steals led by Higgins and Hayes.
The game was already broken and an excellent Brandon Davies poked at the wound of a Valencia Basket that closed the first quarter with 12 points and even could have been more if Kuric had scored a triple on the horn (28-16).
The second quarter was a continuation of that same dynamic, with a Brandon Davies who took advantage of the temporary absence of Mike Tobey (an old dream of the Barcelona section) to continue increasing its figures (11 points at halftime) and establish the highest income so far, a scandalous 43-23 four minutes into the interval.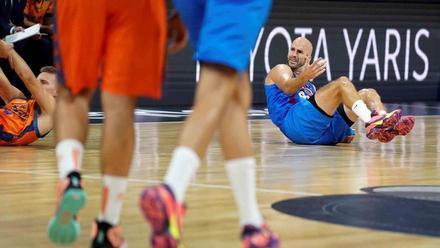 Calathes, at the top despite the clear Barça advantage
| .
At least, Peñarroya got his players to tighten a little on defense to hinder Barça's offensive game. And they achieved it only in a fleeting way with a 0-5 that did not have continuity and so on. the equator was reached with a clear 45-28 and with the feeling that the semifinal was already practically 'sung'.
The only negative of this first part in a Barca key is that, despite a good stopper in the final stretch of the second quarter, Mirotic still did not get things. He went to the locker room with zero points, 0/3 in field goals and a +1 PIR at 11:50.
The third quarter served precisely that. Although Pradilla put a stopper on him in addition to scoring six points in a row, the Spanish-Montenegrin regained freshness with seven points in less than two minutes they took the difference above 20 points (53-32).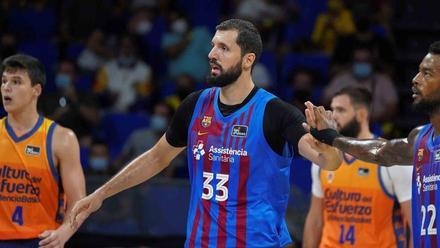 Nikola Mirotic met again in the third quarter
| .
A triple by Brandon Davies (he retired to an applause with seven minutes remaining) closed the second quarter with a 67-44 record that extended even more Rokas Jokubaitis of the same fate (70-44) at the dawn of the last quarter.
There was little else to scratch except the 'bullfighting shame' of the young 'taronges' players helped by Sam Van Rossom, some genius from Jokubaitis and good minutes from Rolands Smits that left the final score at 87-68. Now to rest and to follow from the hotel the Lenovo Tenerife-Real Madrid.