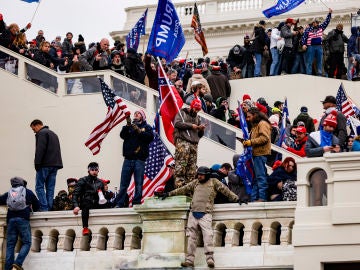 The Justice Department works tirelessly to try to try all those who are identified in the assault on the Capitol last Wednesday. An "unprecedented" attack and for which it is expected to try "several hundred" people, who are facing crimes of "sedition and conspiracy".
"We are targeting significant charges of sedition and conspiracy," Michael Sherwin, acting federal prosecutor in the District of Columbia, where Washington is located, told a news conference, highlighting the seriousness of the chaotic day that occurred last Wednesday, which left five dead people, including a policeman.
Sherwin assured that they have already opened more than 170 investigations against individuals who have been identified as potentially responsible for "crimes inside and outside the Capitol", and pointed out that the range of cases and criminal behavior that they are analyzing "is really amazing."
"The magnitude of this investigation is going to require a lot of work and effort. It is not going to be solved overnight or in the next few hours, it is going to take a long time," he added.
The interim prosecutor pointed out that "this is only the beginning" by detailing that they will begin by presenting the simplest charges and that later, through criminal complaints, they will seek to arrest people in different parts of the country.
Specifically, he pointed out that they have formed a force of prosecutors that will be in charge of working on the charges of sedition and conspiracy "related to the most atrocious acts that occurred on Capitol Hill," where Trump supporters stormed while legislators proceeded to certify victory. election of Democrat Joe Biden.
The sedition charges, he said, can carry a sentence of up to 20 years in jail.
For his part, the head of the FBI's Washington office, Steven D'Antuono, assured at the same press conference that "the brutality that the American people saw shocked and incredulous" on January 6 "will not be tolerated by the FBI ".
"The men and women of the FBI will leave no stone unturned in this investigation," added D'Antuono, noting that in just six days they have opened more than 160 cases and that this is only "the tip of the iceberg."