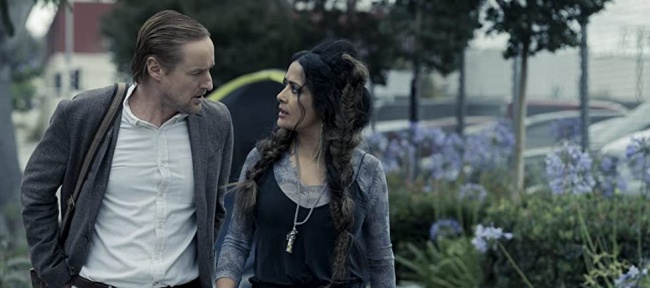 Amazon Prime Video has released the official trailer for 'Bliss', drama, romance and science fiction by Mike Cahill (' Origins') starring Owen Wilson ('Wonder') and Salma Hayek ('The spark of life'). The film will be available on the streaming service starting Friday, February 5, 2021.
In the movie, Greg (Wilson), a recently divorced guy whose life is falling apart, meets the lovely Isabel (Hayek), a woman who lives on the streets and is convinced that the polluted and broken world around us is not real. She believes they are living in an ugly and harsh world of simulation within the beautiful and peaceful "real" world. Doubtful at first, Greg eventually discovers that there may be some truth to Isabel's wacky conspiracy theory.
Along with Wilson and Hayek, the film stars Madeline Zima, Deron Horton, Jorge Lendeborg Jr., Joshua Leonard, Nesta Cooper, Steve Zissis and Dayne Catalano. Written and directed by Cahill, the film is produced by Endgame Entertainment's James D. Stern, with Lucas Smith and Marsha Swinton serving as executive producers.
This and other trilers you can find on our Dailymotion channel,
or in the section Movie trailers and videos of the web.Click here to see it on YouTube.