09/08/2021 at 06:30 CEST
After representing FC Barcelona this Tuesday in the presentation of the new season of the Endesa League at a gala that took place in Madrid, Pierre Oriola commented with SPORT about the team's news after losing the Catalan League and a few days before the Endesa Super Cup this weekend
About to fly back to Barcelona to participate in training this Wednesday, Barça captain Pierre Oriola advanced that he will be back in Tenerife after leaving due to slight physical discomfort.
The Catalan League was lost due to injury. Will he be in the Super Cup?
Yes Yes. I already have the discharge and I will arrive well. I am already recovered and I am recovering my rhythm to be at 100% and help the team.
And could Sanli be there too?
As far as I know, he will surely try to hurry. He will try to get there, but the doctors will have the last word.
How have they fitted the defeat in the final of the Catalan League?
We made a lot of mistakes, Manresa put up a very tough game and we didn't know how to balance it. They raised the physical level a lot, they did us a lot of damage on the offensive rebound and they won deservedly. We are still in preseason and we have to learn from mistakes.
Pierre Oriola fully trusts the team
| JAVI FERRÁNDIZ
But … the team is trained to win the Super Cup, no?
Evidently! That we are starting is not an excuse for anything. All titles are important, we have already lost one and now we have a great opportunity.
He was joking with Hanga. Have they told you that they want to beat them?
We have not talked about basketball. I have asked him how his family is doing, how his daughters have adapted to school and to life in Madrid. I wish him the best in all the games except against Barça, hopefully that day he won't score a single one (laughs).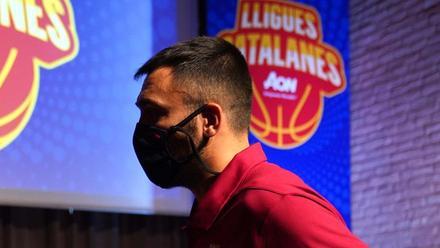 Oriola, at the presentation of Les Lligues Catalanes
| FCB
And the saturday against Valencia Basket de Claver. They have spoken?
No. A few weeks ago I wished him luck, but we are not talking about these semi-finals. It will be a difficult opponent. Valencia always makes things very difficult for us and this time it will not be an exception.
The Endesa League has been presented. It is eager to 'repeat' title with Barça?
They have presented everything. The ACB League, which is the final grand prize, but also this Super Cup that I have never won and the Copa del Rey, which I have three and I would surely have changed one for another league. Hopefully we will achieve it in many months and we will be a regular team.